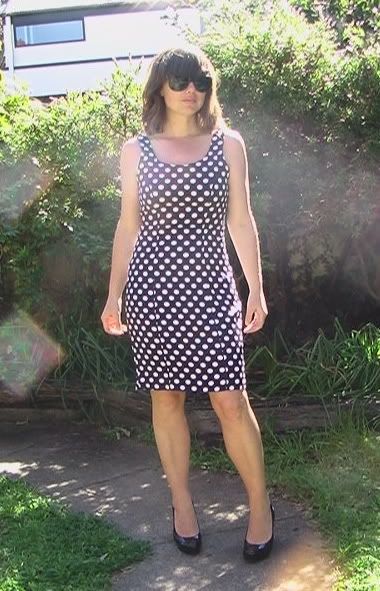 Eighties vintage Le Specs sunglasses - $13 ebay
Navy spotted shift dress - $2 op-shop
Black patent leather wedges - $50 Nine West outlet
At last! The first official day of spring is living up to all the hype - blue skies, golden light, twenty delicious degrees - and (taking my cue from the gorgeous new dotted dress that Andrea from
A Cat of Impossible Colour acquired this morning)
I decided to break out my own spotted frock. My husband has been hassling me to wear this one since I bought it - the classic fitted shift shape being stereotypical man-bait deluxe. I've held out on him until now, because I really wanted to debut this dress on a day when the air was warm and I could go bare legged and fancy free
I'm sure I could wear scarves and belts and brooches and all kinds of feminine furbelows with this, but there's something refreshing about ditching all the layers after a long winter and just being a streamlined machine. Note: armpit fetishists this one's for you!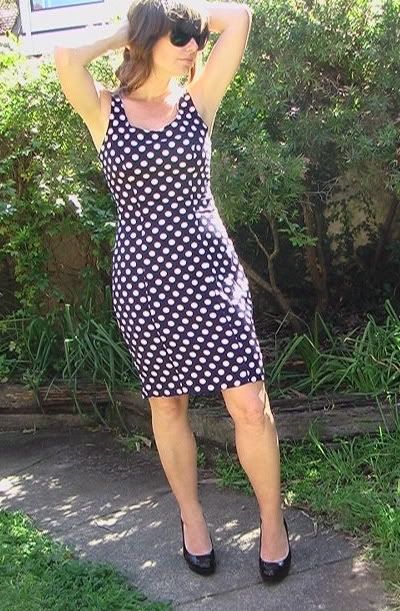 Slipping into this dress and feeling suddenly full of frisky spring optimism and breeze-in-my-hair freedom, I was reminded of a spotty dress I own which has the exact opposite effect on me. It resides in the Garage Sale Bag of Doom, where it has had permanent residence since the day I bought it (thankfully just from an op-shop) in some kind of fugue state caused by toddler-induced sleep deprivation.
I can hear you thinking, "What's she on about? That's not so bad." Bit frumpy perhaps, a tad ordinary but it doesn't look completely terrible. Little do you realise just what down in the dumps, stumpy awfulness can be achieved with a bias cut and a hem-length of impossible wrongness. Behold the full-length view:
You can see the morose look on my face - that's because Daddy's just come home from work with the news that he's lost everything in the Crash. I'm trying to digest the fact that I'm going to have to try and get a job at the button factory even though everyone's getting laid off and I've never worked a day in my life. Daddy's letting the maids go right now, we'll probably be next door neighbours in Shantytown before the month is up!
xx
Skye
PS.
Here's the little dude (do you think that should be capitalised?) getting in on the spotty spring action in my super plasticky shower cap.