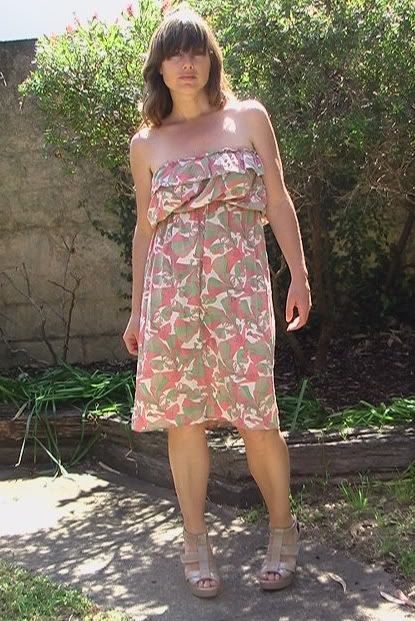 Silk dress - made by me from Zimmermann fabric (via
Tessuti Fabrics
)
Nude patent heels - $70 Sportsgirl sale
I finally attacked my overloaded sewing bag today, so I'm dressed for the job in my traditional sewing dress. I whipped it up when I was pregnant with the little dude so it's made with elastic and therefore perfect for constantly dragging clothes on and off to try on as I sew. The slightly incongruous shoes are also part of the sewing mission - when I'm hemming dresses and skirts or trying stuff on I need to make sure the shoes I'm wearing are kind of ok, otherwise everything looks dreadful and I get sewing fatigue and shove everything back in the bag.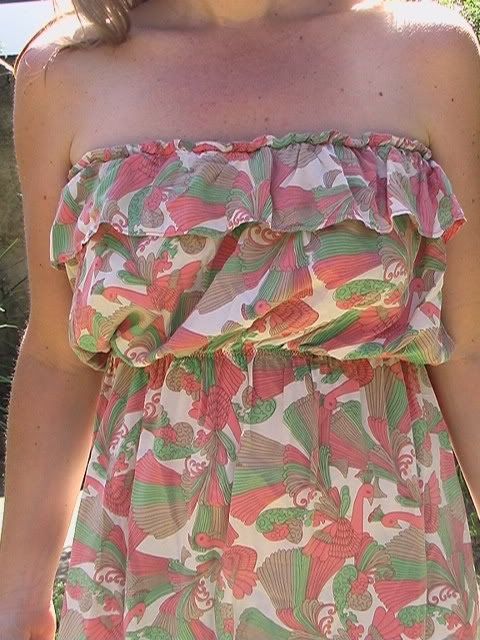 I wore this poor little frock to death when I was pregnant, it was my default going out dress, party dress, beach dress and everywhere dress. The silk fabric is so soft and light and just what I needed when I was waddling around feeling puffy and exhausted by the growing of a new human. Occasionally people pointed out that the peacocks (or chickens as the little dude would have it) were very unlucky, and that as a pregnant lady I should have shoved the dress to the back of my wardrobe and never worn it at all - but despite my usually superstitious nature I ignored them all. I think peacocks must lose their bad luck when they're peach and mint green and printed on silk!
I had rather mixed results with my sewing spree this morning - the scorecard looks like this:
Ugly print halter dress ($2) - successfully converted to high-waisted skirt
Late seventies denim skirt (50c) - cut too short, now in garage sale bag
Fabulous eighties dress from Etsy - cut too short but saved by quick thinking
Linen eighties blazer ($2) - successfully converted to sleeveless eighties blazer
Oversized yellow eighties dress - kind of a success but I think I hate it.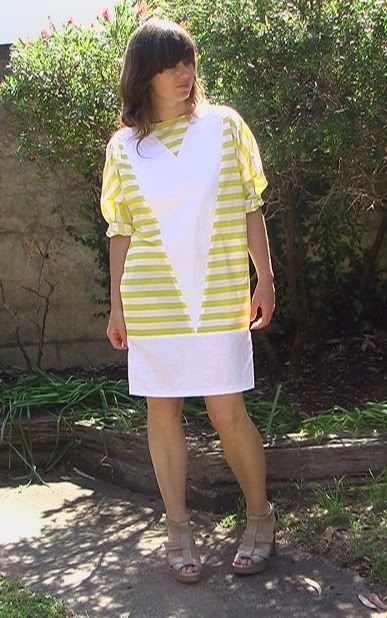 This dress was an impulse purchase from Bondi markets, it was only five dollars and I didn't bother trying it on as it was about three sizes too big. I thought it might work if I took it up and took it in a bit, and I suppose technically it kind of does work now (although it needs to be shorter still) - I just don't think I like it enough to bother fiddling around with it any more. It looks foul with a belt so that option (so often the saviour of an awkwardly cut dress) is out too. It's the kind of thing which in theory I usually like, but somehow it's not quite doing it for me - I might just have to pose a mini "Should I Stay or Should I Go?" question here. So if you have an opinion either way, please let me know!
Sewing with the little dude around is a constant challenge - he is a demon for finding pins on the floor, getting his hands on the scissors and pressing down on the sewing machine pedal at the worst possible time. Not to mention the last thing he wants to do on a sunny morning is be cooped up inside while I ignore him in favour of a pile of old clothes and a rickety sewing machine. I do have a solution though, please observe:
So I can sew in the sunshine, and the little dude gets to dig happily in the dirt nearby! I think that is what is known in the workplace training seminar game as a "win/win situation"...
xx
Skye
PS. Tessuti Fabrics have an online store now, but if you live in Sydney it is really worth going into one of their stores to look at the range of amazing fabric they have in stock. They buy excess rolls from designers (including Zimmermann and Karen Walker)so you can get some wonderful treats if you look out for them!