No face today! That's because I managed to reach new levels of dishevellment and plain old grubbiness - mud on my nose, cobwebs in my hair, garden dirt under my nails, no makeup at all (not even my usual panda eyeliner) and hair which was washed but not even combed. We did some really serious house moving hard labour, and things are starting to get kind-of, sort-of, almost something approaching organised. I'm sitting here in a room which is virtually devoid of furniture (I'm perching on the little dude's chair with three cushions piled on top so I can reach the keyboard), with large cardboard boxes looming on all sides and a strange night-before-christmas feeling of anticipation bubbling up in my tummy.
The only place I actually showed my grungy face today was the op-shop on the corner. I lugged a HUGE bag of stuff down there (as well as Alister's old guitar and case for Bill the semi-reformed alcoholic former street person who does all their deliveries and heavy lifting and restores guitars in his spare time), and said lots of farewells to all my favourite people. I'm really going to miss that place, as much for the lovely friendships I've made as for the legendary fifty cent bin. I was unable to resist buying just a few things - like this tie-dyed eighties shirt from Bali ($2) which some enterprising soul has sewed a little fake Lacoste logo on. I really love this shirt for its pattern, colours and floppy fabric - and although I probably should unpick that little alligator I like the utter preposterousness of it too much!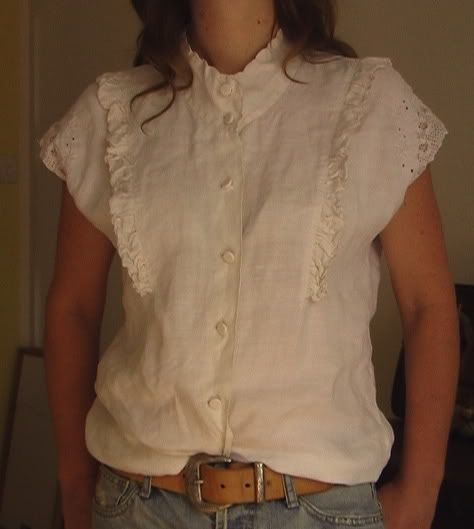 The other shirt I bought is this linen blouse (fifty cents) - with its dear little ruffles and lace edged sleeves it's the ladylike opposite to the roguish alligator shirt. Less swagger and more sweetheart - just look at those lovely details:
The other thing I bought definitely falls on the swaggering side of the scale though. These shredded jeans are one of those terrible/wonderful items - I watched about five people pick them up and inspect them carefully then put them back on the rack with a shake of the head, as if to say "Those are really dreadful, but I kind of like them. Or maybe I don't. Or maybe...Nah."
No face, and no feet either. No one needs to see my little muddy bare hobbit feet.
I just flat out liked them though, so I paid the five bucks. They actually look a lot better in person (my husband said "Rock and ROLL, baby" when he saw me in them) than they do in this photo but they are definitely pretty damn heinous. Being the contrary beast that I am, that only makes me love them more.
I actually think they work pretty well with the linen librarian blouse too: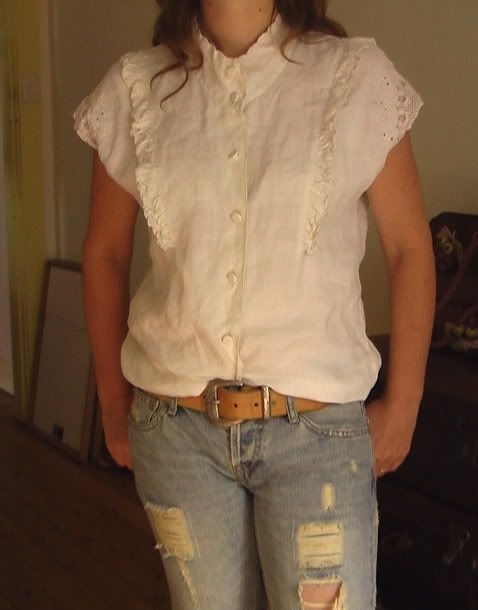 Now I need to go and lie on our soon to be dismantled bed and try to switch off the endless to-do list in my mind long enough to get some sleep in preparation for the massive cleaning blitz which starts tomorrow...
xx
Skye
PS. I have to relate this spooky thing that happened today. Last night I dreamt that I had a new job as production manager on a claymation series of
Noddy
- which had been made in the UK but now had to be re-voiced for Australia. I have no idea where the hell any of that came from, there has been no discussion of re-voicing in this house for at least a year, and I don't think I've laid eyes on Noddy for at least twenty five years (and never liked it much as a child anyway).
Today at the op-shop I was idly chatting to a woman who I have never exchanged more than vague pleasantries with before, and she said to me "Have you seen the Noddy frame?" and pointed over to a framed Noddy print which was on the "NOT FOR SALE" table. Judging by the style of the frame I'd say the print dated from the late fifties and was probably quite collectible. I've never seen one like it in an op-shop before. I was totally amazed that it had turned up after my dream, so I started telling this woman about it - and she said "Oh, that's what I do." I looked sort of quizzical so she said "I do voiceover, mostly re-voicing overseas stuff." Cue astonishment from me!
Does this make me some kind of op-shopping psychic?