Alice McCall House of Dolls dress - Vogue forum ($60? $80 I've forgotten, and too lazy to look it up because it's pretend Sunday)
Fluro pink eighties swimsuit - 50cents op-shop
Tan plaited seventies belt - $1 op-shop
Tan leather gladiators - $40 Sportsgirl sale
We're still caught in a time warp over here - this outfit and most of this post is from last Sunday (and it might be a tiny bit...perfunctory in the way that Sunday posts often are). Next post I promise all new of-the-moment-right-here-and-now type material!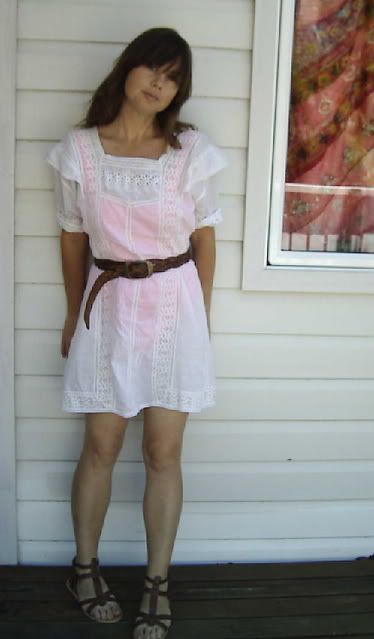 I've come to realise that without the winter tights and layers I'm used to wearing with this dress, it is rather:
a. transparent,
and
b. short.
The fluro swimmers underneath were my way of grappling with the see-through situation, but I didn't know just how short it really was until I was walking along the main street and some dude in a passing ute yelled out "I can see your undies!" with a big gleeful cackle and a thumbs up.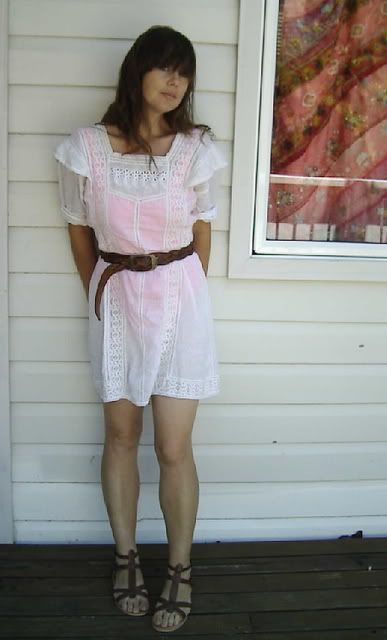 Admittedly no one openly checked out my short skirt at the organic market, a car boot sale down the road, or the beach (duh), but supermarket shopping at a local suburban mall felt a bit like running the gauntlet of leering elderly gents, and had me walking around holding my hem down with both hands. One old codger gave me so many trying-to-be-covert-but-failing-dismally leering looks that his equally ancient wife was forced to elbow him in the ribs to get him to stop. Heaven only knows how these old guys get through the day without blowing a gasket though, since the combination of hot climate and proximity to the beach here means that there are a lot of women walking around in not a lot of clothing...
Ah well, a lesson learnt! A lesson I have apparently
not
learnt yet is that if you leave three pairs of sandals in the cupboard unsupervised they'll mate and you'll end up with ten pairs within three short months. At the beginning of spring I had three pairs, and I realised today that I now have ten - at this rate there'll soon be no room for anything else in this house but sandals, and soon after that they'll have taken over the entire planet.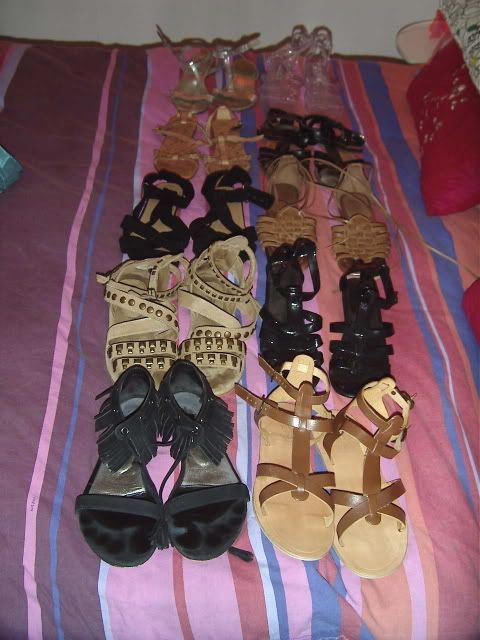 (check out the worn in foot marks on those black suede ones, it looks like ET has been borrowing my shoes again)
Those tan Sportsgirl gladiators are the latest addition to the tribe, and I'm going to try and keep it that way for a while at least. Although it has to be said that as we have at least four more months of hardcore sandal-wearing weather ahead of us I'm pretty sure they'll all get worn until they are just pitiful little shreds of leather held together with a few buckles and studs.
I think I have finally reined in my tan bag addiction though, I put two back on the rack at an op-shop last weekend, and finally bought a black leather bag ($3) this week. I haven't had a black bag for years and years, and even then it just for work, but I do quite often wish I had one - so hopefully this frilly fellow will fit the bill. It's squishy and slouchy enough for me to cram all my little-dude related cargo into it, so that's a promising start.
I've had a few requests for shack pictures, so I'm slowly sneaking them in here and there. The other day you saw our glamorous new sofa bed covered in my mother's old Mexican bedspread - today I'm giving you a little peek at the Mexican oil cloth my mother sent us from the UK as a shackwarming present.
It's actually a really vibrant aqua/turquoise colour, the camera washed it out a bit unfortunately. You can get a better idea of the real shade
here
(pretty sure this is where mum ordered it from). The oil cloth will look absolutely gorgeous covering up the fugly old plastic table on our verandah, definitely a step up from the cheap and cheerful pvc tablecloth there at the moment which is looking a bit worse for wear since the little dude (channeling his inner puppy) bit a great big hole in it.
The magnificent
Hammie
bestowed her self-made blog award upon me long, long ago and I've finally found a moment to tell you about it. When she first invented the award I was secretly hoping I'd get one, and I was inordinately thrilled when I actually did. Hammie is another deadset legend and a blogosphere national living treasure (perhaps the Blogosphere National Living Treasure award will be my self-made blog award, if I ever get round to self-making one) and an award from her is one worth getting indeed.
The rules for this as created by the inaugural winner The Seeker:
1. The nominated person can put the picture on their blog.
2. Share the love and link back to both the person who awarded you and back to the person who founded the award, that would be me.
3. Give it to two bloggers and link to them. Tell us in detail why they are beautiful.
4. Leave a message on those people's blogs to make them aware that they're nominated.
5. You are free to pass it on again, when you are "inspired" by a beautiful post or a beautiful blog.
I shall be nominating two beautiful bloggers in the next week, because this is one tag which really should be passed on far and wide.
xx
Skye