Family legend has it that this (slightly Koonsian) kitty cat vase was delivered to my mother with flowers in it when I was born. It has stayed with me ever since.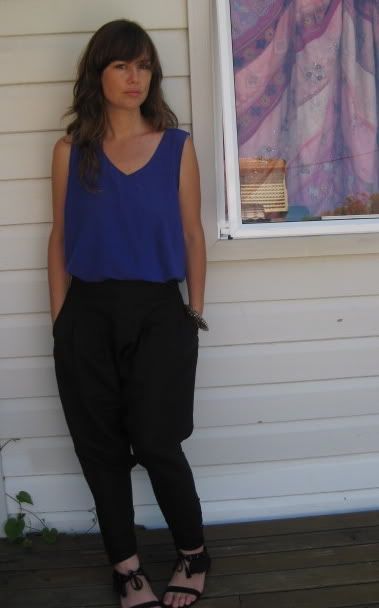 Blue silk eighties top - $4 garage sale
Senso suede fringed sandals - $40 Max's Shoes sale last summer
Black linen hammerish/haremish pants - $20 (reduced from $99) Bardot sale
Resin mirrored chunky bangle - $5 Diva sale
That's what I wore yesterday for my birthday yum cha lunch - and it seems wholly appropriate for this post which is one of those Ritual-Display-of-Gifts-and-Sales-Bargains kind of posts wherein we celebrate the decadent and corrupt capitalist system/imminent decline and fall of western civilisation/commercialisation of Christmas etc etc. It is appropriate because it contains not one but two of my Boxing Day bargains, both bought with my Christmas and/or Birthday money.
I think I'll go back and see if there are any more of these left, I think two or three would be even better than one.
This resin bangle has a most satisfying heft to it, and the mirror is all safely under the surface where I can't lose or break it - and most importantly the little dude can't eat it. Unlike the indian bracelets with little bits of mirror stuck on them which somehow fell into his playpen when he was a teething nine month old, the gnawing of which prompted me to make an embarrassingly hysterical call to the Poisons Hotline. Poor Poisons Hotline people, can you imagine the demented calls they get from crazed new parents? I salute them for being able to reassure me that all would be fine, without once bursting into laughter at any point during the call - no mean feat, I'm sure.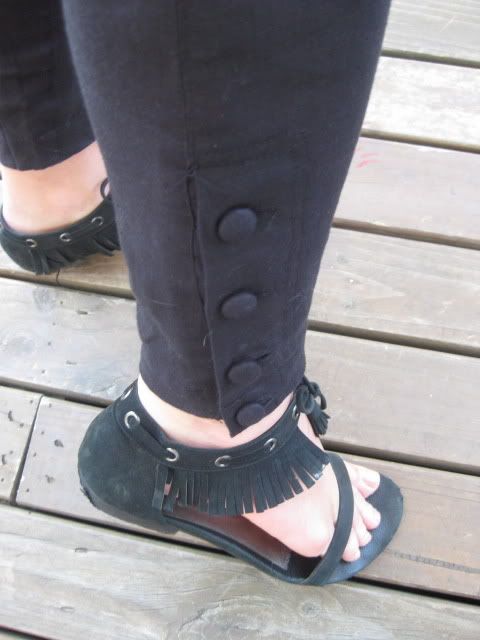 This is an awkwardly angled photo of the excellent buttoned leg bits of my new linen pants. I'm especially pleased with these because I dragged out my sewing machine and took them in at the bottoms and made them rather more Hammerish and rather less Carrotish. This is them the day before, prior to alteration and very much in full carrot mode: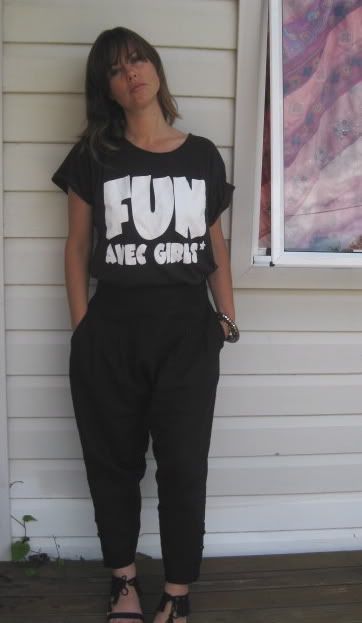 I actually bought two pairs of black pants on Boxing Day, from the same shop for the same price (although the second pair were reduced from $130 instead). Two pairs of very similar black pants would seem like a fairly dopey purchase but the second pair are satin and have a sort of tuxedo trouser (well a mutant hammerish tuxedo trouser anyway) tailored styling thing going on and are a nice subtle black satin into the bargain. Which means I'll wear them when the summer ends, unlike the linen ones which will be withdrawn from circulation once the weather gets cooler. See? Method to my madness!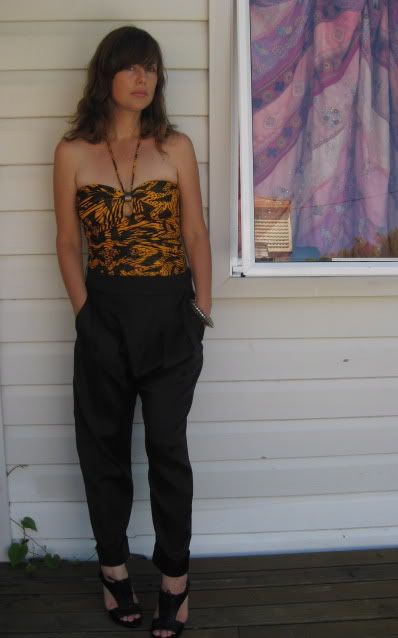 How many times in the history of your magazine reading career have you read some kind of "Packing for Vacation" article which advocates the wearing of swimsuits as an extra item of proper clothing? I will wager it is many. And how many of you have ever
actually
gone out to a restaurant, cocktail bar or any other civilised grown-up type of place with a swimsuit on as part of your outfit? Bonus points if you teamed it with some kind of artfully draped sarong and heels (as usually also recommended in those very same articles). Throwing shorts on over the top to walk down to the corner shop or back from the beach categorically doesn't count, nor does anything done under the age of twenty or for Halloween.
I am a former surfie chick, an old beach bunny, and have lived in beachside tourist towns for large chunks of my life - yet until yesterday when I took these photos of my new
Tigerlily
swimsuit ($99 reduced from $189.95 and bought with birthday/christmas money as well) I have never worn my swimwear out and about with heels and statement accessories etc as though it was designed for anything more than lounging and splashing around beach or pool. I am almost prepared to call bullshit on the whole concept - unless you lot provide me with some evidence to the contrary, of course.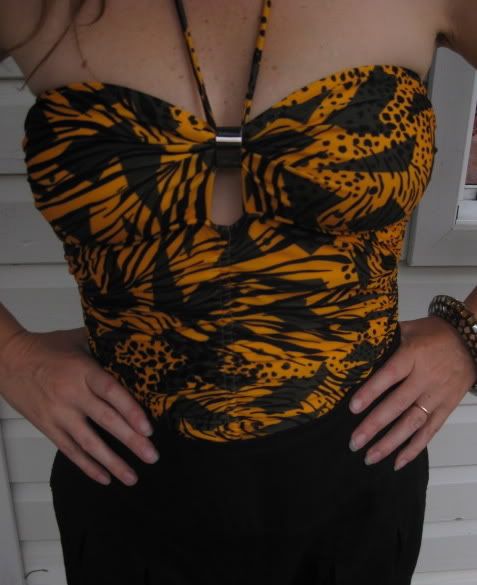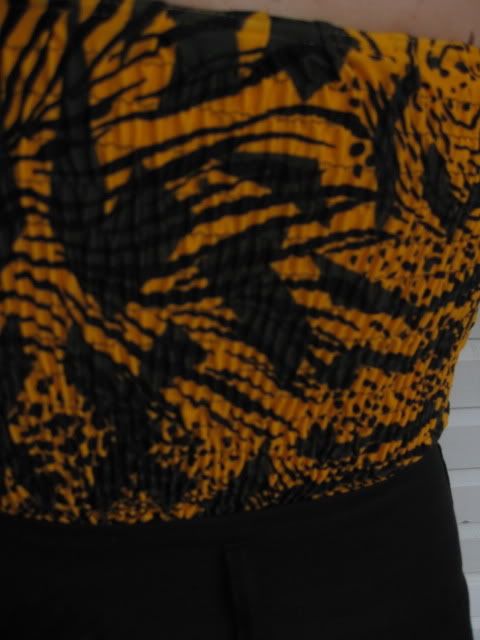 The detail on this suit, and the old school ruching and shirring make it a little bit more clothes-like than the average bit of swimwear, but still it's a just a small stretch of lycra unforgiving of tummy rolls and after dinner gut expansion, and (this is crucial) it DOESN'T HAVE SNAPS IN THE CROTCH. Can you imagine trying to struggle out of this thing in order to go to toilet (while drunk, in a tiny nightclub bathroom cubicle). No dignity would be left intact, that's one thing I know.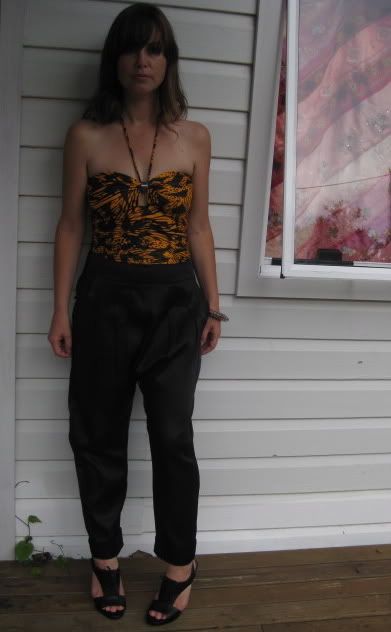 Here's me trying to look like a disco diva who thinks dignity is highly overrated.
My other big Boxing Day sales bargain (again purchased with my very gratefully received christmas/birthday money) was a new
Mimco
wallet. My old one was starting to look just a tiny bit worn around the edges so I felt it was time to retire it on at least a part-time basis. I like this new one so much, apart from the fact that it was $60 reduced from $190, it's made from lovely soft tan leather, and I know it will wear in really well. The buckle detail is rather deco too, and it's lined with the same subtly metallic deep purple that's piped on the front there. Yum!
I used to be a bit hopeless with cash gifts, I'd end up spending them on phone bills or things for the little dude, but I've got much better in recent times and take a lot of pleasure from being able to go out and find some lovely bits and pieces which I wouldn't normally buy for myself. The fact that the big sales fall neatly between Christmas day and my birthday is also rather handy...
I do get lots of lovely actual gifts (you know the kind which come wrapped in paper and ribbons rather than in an envelope or cheque), I'm quite partial to the quirky little surprise presents in particular. One of my favourites this year (and they were all favourites really) was this nutty giant plastic onion-shaped onion storer which is either utterly pointless and another sign of the corrupt decadence of western civilisation or a piece of everyday household genius. I'm definitely leaning towards the latter as we always have at least one partially chopped red onion hanging around in our fridge in desperate need of containment and making everything smell oniony. Love it!
A little gift that I'm always so happy to receive is hand soaps (also known as guest soaps). I am terribly set against liquid soap, I do understand why everyone loves it (hygiene, less soapy bits stuck everywhere etc) but I love those little mini baby soaps so much and they have been almost entirely displaced by the encroaching tide of liquid soap. These beautiful italian red poppy soaps come in wonderful packaging, smell divine, look adorable and were sent all the way from Scotland by my mother - all of which makes them extra special. Not too special for washing my hands with though!
And so ends the sale shopping, gift receiving and gift displaying consumerist orgy for another year. I've heartily enjoyed it but I think it's time to get back to my roots and do some hardcore op-shopping just as soon as I can. I can hear those crowded racks of polyester nastiness calling me to come and rifle through them, and so I will - just as soon as I can muster up any shopping mojo whatsoever!
xx
Skye
PS. I think this speaks for itself (needs sound):