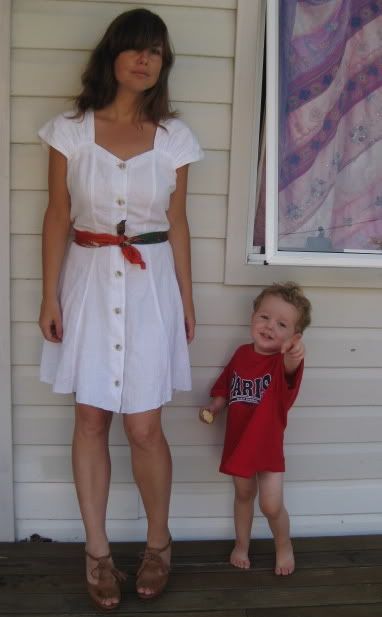 White dress (altered by me) - $5 op-shop
Green vintage scarf - $1 op-shop many years ago
Red vintage scarf - nicked from my mum long ago
Tan leather platform heels - $30 Wittner sale (were $170)
Little dude wears Paris souvenir tee - 50cents op-shop
There are a few items which are found in abundance in every op-shop I've visited in the last ten years, so if you're in the market for any of the following I advise you to hotfoot it down to your local charity emporium:
- unused foot spas still in the box (I often see those left by the side of the road as well),
- cheap champagne flutes decorated with dates and names in glitter pen, presumably given as favours at weddings "Gary & Leanne 26~02~05",
- Home made quilted country crafts style padded photo frames, gone a bit mangy round the edges,
- lime green and bright orange things left over from the Great Citrus Fiasco of 97/98,
- really cheap looking iridescent dolphin figurines,
- pewter coloured mid-heel clumpy pumps (I don't remember those ever being in fashion, why are there so many of them?),
- long sleeved mesh shirts with pictures of Buddha on them,
- long, frumpy dresses of indeterminate age, indifferent fabrication and nil potential.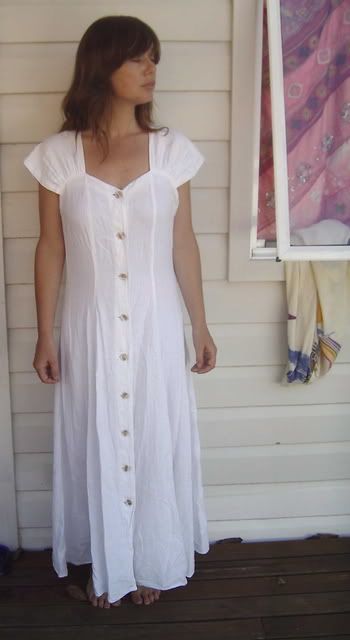 Eyes closed as I contemplate Higher Matters.
Those long frumpy frocks are found in plague proportions, and apart from fundamentalist Christian ladies with a yen for a bushel of
thrifty modest dresses
, I cannot imagine who buys them. Yet they continue to appear, year after year with no sign of abating any time soon. A while ago I decided that I would make it my mission to try and wrestle some of these sorry sacks into submission with my trusty sewing machine and native rat cunning. The first candidate for redemption is this white cotton button-through beast, and with a bit of hem hacking and judicious belting I think it is just about acceptable.
Now one of the things about me is that I am blessed with a torso of magnificent oblongitude, with nary a waist to be seen - and natural waisted dresses really do need a waist to work with (or I suppose they'd be called natural oblong dresses instead). Obviously the belt is the natural ally of the natural oblong, in this instance knotted together from two vintage scarves from deep in the heathen wilds of my untamed scarf drawer.
I used to have lots of vintage souvenir scarves, but I never wore them and over the years they drifted away from the flock, until only these two remain. I seem to have sublimated the urge to collect souvenir scarves into the urge to collect toddler sized souvenir t-shirts instead - the little dude has shekels of them accumulating as we speak, both gifts from afar and scavenged by me.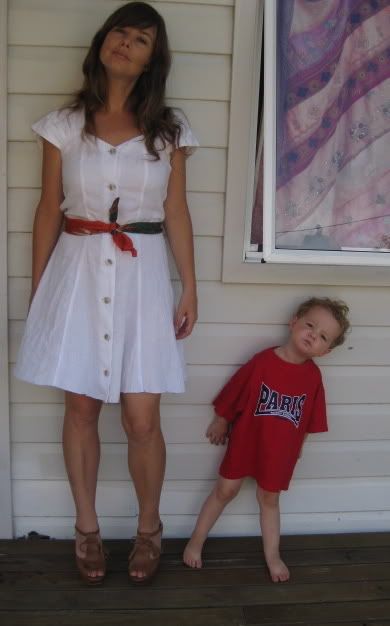 That's Paris, France in case you were wondering - not Paris, Hilton or Paris, Texas. Among others there is Bali, Tahiti, Sicily, Australia (various), NYC and one just arrived in the mail from Tenerife in the Canary Islands today. I think people consider souvenir t-shirts much too tacky to put on their kidlets, so these are received as gifts then dumped in op-shops unworn to wait for the little dude to bring them back into the fold.
Nothing modest about these little beauties - in fact I'm sorry to say that the narrow heel+chunky platform = stripper equation is in play here. Wearing these today I did feel like perhaps I ought to be wrapped around a pole in a golf themed strip joint somewhere (let's call it The Hole in One) trying to rustle up tips from a bunch of sunburned middle aged guys in plaid pants.
Luckily I had my white dress and a handy toddler nearby to remind me of my proper station as wife and mother!
Tomorrow I will present part two of this revival meeting, wherein another frock will be saved from the fires of frumpishness and the endless damnation of dagginess, so be sure and attend!
xx
Skye
PS. Here is one of my biggest (and littlest) loves posing in my spot today - I had to evict him before I could take my photos, and as you can see above my eviction wasn't exactly successful. Possibly an exorcism might have done the trick, but I love my little fiend far too much!