White Swan brand t-shirt - $4 (new) op-shop
Silk zebra skirt made by me from eighties dress - $8 op-shop (years ago)
Studded suede leather sandals -$24 Sportsgirl sale
White t-shirts are one of those classic basics which are held up as the cornerstone of every human's wardrobe (man, woman, child and all points between), but which I have a conflicted relationship with. My general need for unnecessary embellishment and excess means I feel strangely undressed in a plain white tee. The only ones I've ever really liked are the eighties staple "Swan Brand" which were once widely available everywhere in Australia (
here
and
here
are a couple of archival examples I found), but are now an endangered species available only in odd Asian grocery shops, ramshackle army disposal stores, lucky op-shop scores and suchlike.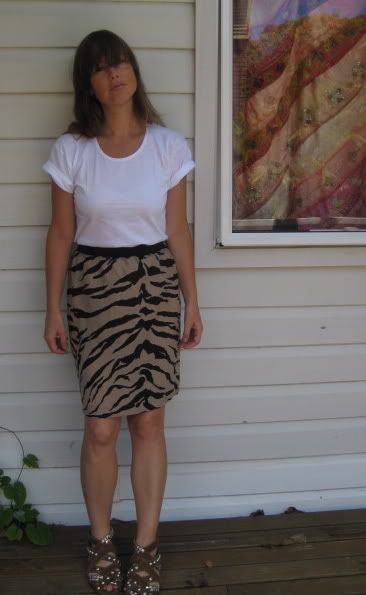 The cotton is thin, the neck is round, there is no ribbing to be found. If anyone has a reliable online source for these, I'd love to hear about it!
I bought the silk eighties dress that skirt is made from well before the little dude was even thought of, and it's been hanging around in my sewing bag ever since. It was mostly a lovely dress with little shoulder pads and a tulip skirt, but an unfortunate circular ruched panel in the midsection made it unwearable in its original form. It gave the unsettling impression that the wearer had been set about by some knife-wielding maniac who'd performed haphazard adhoc abdominal surgery then stitched it all back up again the wrong way around. In any case I finally just gave up on all the elaborate plans I had for it (it was going to be a strapless dress, then a paper bag waist skirt) and whacked on a bit of thick black elastic as a waistband. Et voila, the lazy sewer's skirt!
This little eighties vest ($3.50) caught my eye on the racks of the Coolangatta Salvation Army store mostly because of the contrast between the black and the print - but I bought it because of the exaggerated and elongated cut at the front. I've actually been wearing this almost constantly since I bought it a week or so ago, it's surprisingly versatile and somehow those roses go with
everything
. In fact, the actual outfit I wore today was the skirt/tee/vest combo not just the skirt and t-shirt.
I haven't done an op-shop round-up post for an age - truly continents have formed and then drifted apart again since I last laid out my op-shopped purchases for your perusal. As ever, a few factors are to blame:
1. Lack of motivation to op-shop as have millions of summer clothes already,
2. Lack of motivation to op-shop as the beach calls to me instead,
3. Lack of motivation to op-shop as tis the season for sale shopping instead!
So this is a sort of aggregate post of random bits of stuff I've picked up here and there over the last few weeks of half-hearted occasional op-shop adventures. There are a few things in my alterations pile, but this is the actual (rather paltry) rundown of what I've picked up lately.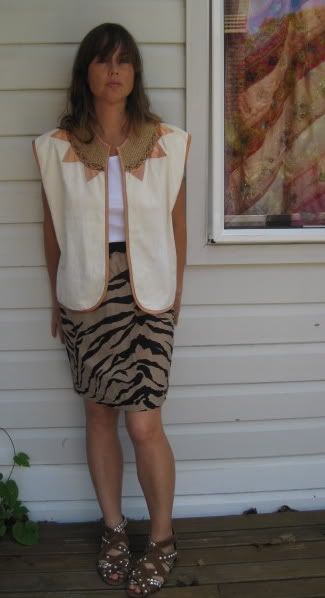 This Mexican vest ($8) is one of those things which I occasionally buy, then ruminate over for a while before deciding whether it works or not. It has a distinctly late-seventies-Doctor-Who-costume-department vibe about it, and I mostly bought it just because I'd been to four different op-shops that morning and found nada, but I do kind of like it. Not with this outfit though, that's just for the sake of quick and easy photo taking.
The Gold Coast is one of those places where there are lots and lots and lots of retirees (and golf courses), and consequently the op-shops are chock full of senior citizen wear. The racks are clogged with slack suits, sensible blouses, bowls uniforms and orthopedic shoes - and they do a roaring trade among the thrifty elderly locals. Not so much joy for me though, unless I muster up a bit more commitment to the op-shopping cause!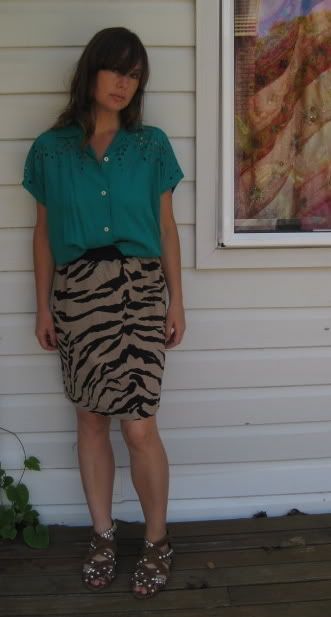 This little blouse ($4.50) is borderline sensible seniors-wear, but something about the jade green colour, the perfectly floppy fabric, the embroidered seashells and the myriad cut-outs gives it a little edge. I had trouble getting a decent photo of the colour - imagine something somewhere between all three of these and you'll just about have it right.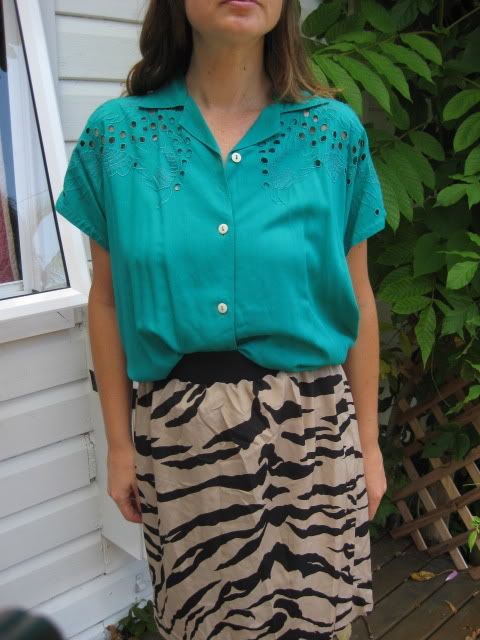 No need to imagine the colour(s) here, this
technicolour yawn
effect is very true to life. This washed silk blouse ($3.50),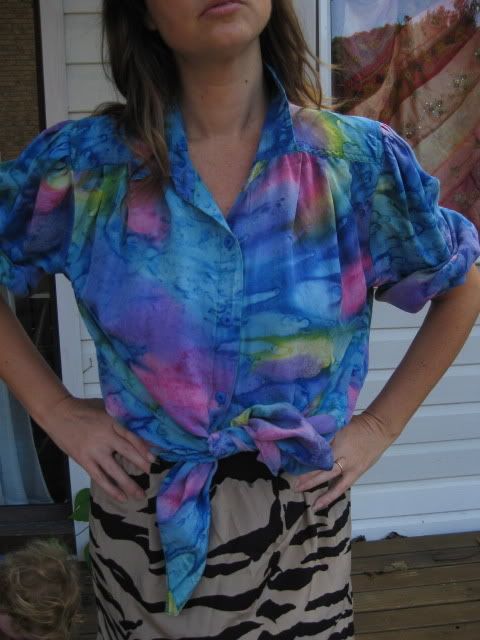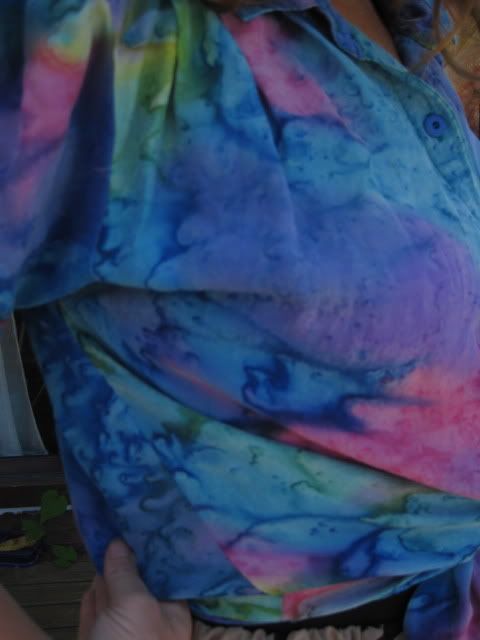 is probably what we'd have to call non-sensible seniors wear, and since I'm all in favour of anything from the Endora school of older lady fashion I approve!
See, she likes the blouse too!
In summary, I'm going to have to seriously up the ante when it comes to my op-shop endeavours. I have the distinct feeling that there is a goldmine of fabulousness lurking out there and I need to get out there and comb the garage sales, car boot sales and op-shops with a renewed hunger. I have no need of new (old) clothes right now, but I have started to get those first tiny glimmerings of interest in wintry things - and those can only be assuaged with some mighty, mighty op-shopping magic...
xx
Skye
PS. I don't know what the final verdict on the shoes from my last post was, there were so many differing opinions I think I'm going to have to do some kind of complicated spreadsheet/graph/pie chart analysis before I have the results!