Navy/white spotted dress - $20 Valleygirl (originally $39.95)
Natasha
patent heart wedges - $2.50 op-shop
The humidity right now is about 90-95%, so the fact that I'm even blogging at all is something of a miracle, since my fingers are all sweaty and slippery and sliding around the keyboard. All week we've been lying around under the fans like slugs, watching the geckos skitter across the ceiling, and only occasionally rousing ourselves for a swim or a trip into the air-conditioned sanctuary of some shopping mall or other. Apart from bananas, ice-cream and sushi (all for the little dude) I rarely buy anything in my mall wanderings, it's more just aimless browsing in that delicious refrigerated air - but I did manage to break virtually all of my vague shopping rules and bought this frock from Valleygirl.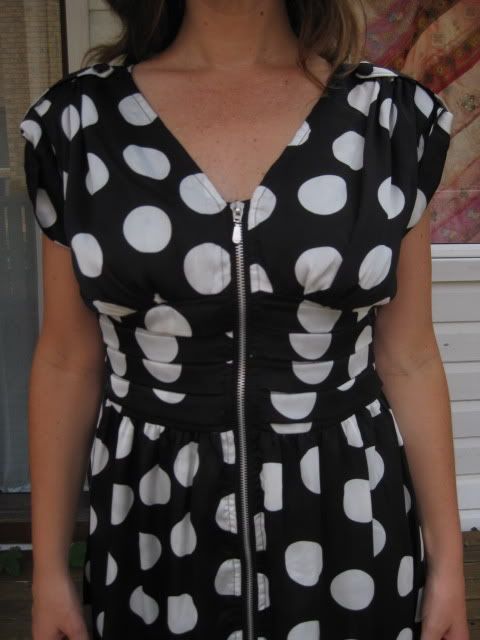 Those panels in the middle of the dress sort of remind me of the broken mirror effect
Valleygirl is one of those really noxious el cheapo chains, where everything costs ten bucks, is made out of petrochemical by-products, falls apart after a couple of wears and is almost certainly made by slave labour. I once bought a horrible stretchy ten dollar dress in there when I was pregnant and slightly desperate, but that's it in the history of forever. How I ended up with the spotty frock is something of a mystery to me (and I probably should have bought the next size down as it's a little too big), it was probably due to my Dawn of the Dead style zombified mall trawling but let's blame it on the heat!
It's definitely a Minnie Mouse sort of dress, this one, so I think these heart embellished shoesies are their perfect match. A little bit silly and girlish and entirely suitable to today's visit from the little dude's step-great-grandmother - a lady who appreciates a cup of tea, a slice of cake, and a nicely pulled together outfit!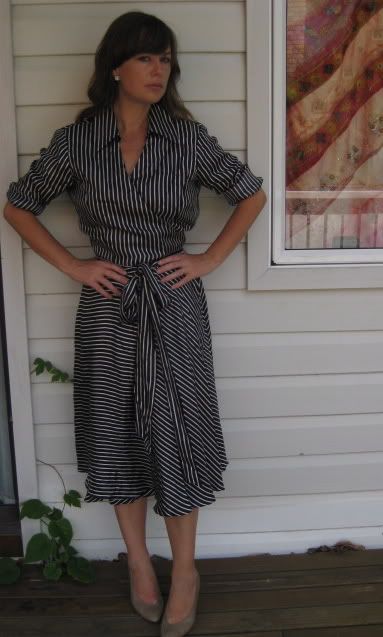 Jane Lamerton navy/white silk wrap dress - $15 op-shop
Mimco opal crystal studs - $40 sale
Taupe leather eighties heels - $4 op-shop
My recent op-shopping efforts have been pretty half-arsed, and my general commitment to the cause decidedly lacking, but this week I felt the spirit moving inside me (despite the heat). I went out to scavenge with some measure of renewed vigour and my efforts were rewarded. 100% cashmere jumpers, tan eelskin eighties flats, the perfect high-waisted chambray eighties shorts, and all kinds of other stuff, all for those magical sub-five-dollar prices. It felt good! The heart shoes were also part of the haul, as was this silk wrap dress and those taupe pumps.
Where the Minnine Mouse dress is perfect for great-grandmotherly visitations, this wrap/shirt dress is made for serious grown-up occasions. You know the kind of thing - funerals, wreath laying ceremonies, openings of municipal buildings, meetings with bank managers - all those events where green leopard print skirts-as-dresses or purple silk jumpsuits are not going to send
precisely
the right message. It will be no surprise to you that I have nothing else in my wardrobe appropriate for hobnobbing with civic officials or trying to impress people with my respectable solid citizenhood, so this dress is therefore a very welcome addition.
There is about 20 metres of fabric in it too, which means that is very tempting to go the swirl.
I'm not usually a wrap dress advocate - they work against my naturally oblong shape and generally make me feel frumpy and unsexy as hell. This one actually makes me feel a wee bit devilish, which I'm fairly certain is a consequence of the gorgeous slithery silk fabric and the shirt dress styling. Nothing like a shirt dress to give an air of respectability and a frisson of vixenish wickedness all in one go!
Disclaimer: the colour is definitely more peach and less tangerine than these photos would indicate.
Yes, lest you think I have turned entirely into some kind of sweet little wifey poo in my navy and white frocks, I present you with my new favourite pet. The nicest, lightest oversized silk shirt ever, and all for $7. I'm going to put an extra button on the bottom (it's just pinned there at the moment) to prevent the world getting an eyeful of my special private lady places, but it really is long enough to wear as a dress. With flat sandals it looks a lot less risky business, but why spoil the fun? Besides, these taupe pumps and I are having a little romance as well and I am quite unwilling to take them off my feet once they get on there!
Do you have an outfit in your wardrobe which confers instant respectability - or maybe you're in the reverse situation with a cupboard full of conservative sophistication and one crazy outfit which you pull out once in a while? It does make me feel strangely secure to know that I now have a fall-back grownup outfit again (my old one was a black shirt dress which died just before the little dude was conceived), just like it's good to know I have a nice winter coat or a well fitting swimsuit - it's an essential.
xx
Skye
PS. Sorry for lack of blogging and patchy commenting - definitely one of those weeks round here.