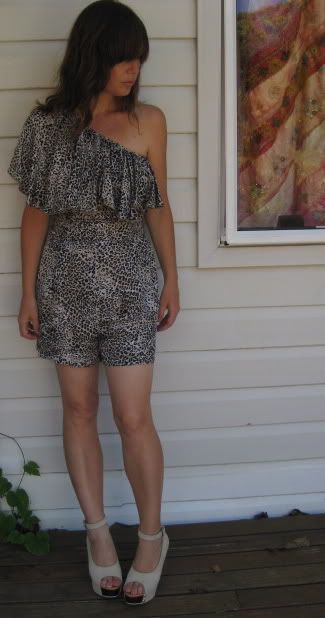 Leopard print playsuit - Topshop online sale, price unknown*
Hussy wedges - $15 (new) from the Village Markets
Yes, that is a very, very, very bad pun up there. In fact I'm not sure if there is such an animal as a good pun, or even an indifferent pun - I think they might all be bad to the bone. I occasionally deploy them and then feel a little bit ashamed of myself, but what the hey!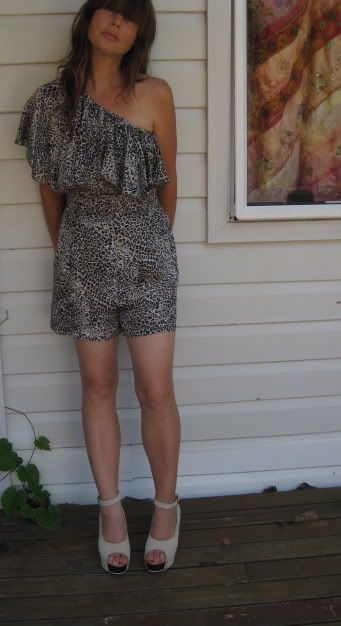 *I cannot truthfully say how much that playsuit cost me because I bought it online on Christmas night after many delicious alcoholic beverages (and with Christmas money burning a hole in my pocket), and although it was on final clearance sale I'm pretty sure the currency conversion would have been a bit of a massacre. I just hit "complete transaction" on Paypal with my eyes closed and hoped for the best. Luckily it fits and is made of lovely swishy viscosey stuff which makes me feel like I'm wearing a big op-shopped old ladies leopard print scarf cunningly fashioned into a ruffly romper. Result!
The first shoes in question here are these suede wedges which I bought (reduced from $275 or something like) from our lovely local
markets
a couple of weekends ago. They are very lovely to wear, and I love the big chunky concealed platform and the smooth sweep of dark wooden wedge, but the colour (called "creme" on the Hussy website) is problematic. I'm also a little unsure of the ankle straps - are they perhaps a little bit tarty? Or stumptastic? Hmmm, I feel sure I've asked those questions before, about other garments. It seems I have some deepseated fears about appearing stumpy and/or tarty - yet I am quite sure I look like a slutty hobbit on a regular basis without a second thought. Interesting!
Here are the shoes without the ankle straps, what do you reckon?
Conventional wisdom states that the ankle strap is an automatic enstumpifier, and should be avoided by anyone who isn't at least 90% leg. When I bought the wedges I just assumed that I'd never even bother putting the ankle straps on, yet somehow I kind of prefer them - which leads me to my first question for your consideration.
Straps or no straps?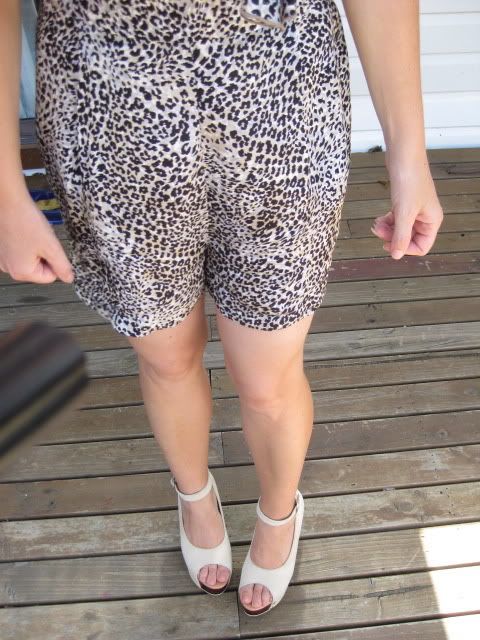 The other question I have about these shoes is in regard to the colour. They're cream coloured suede and that means that:
a. they will get really grubby within about 5 minutes
b. they go with nothing in my wardrobe
c. I am rather leary of them due to my long-held and deepseated prejudices against light coloured shoes (and the wearers thereof).
They are suede, which means they would suck up some coloured dye like thirsty little vampires (or the newborn little dude in a crazed milk frenzy), so I'm very inclined toward painting them another non-"creme" kind of colour. So that's question number two.
Should I dye them
, or should I leave them in their off-white original shade?
I know this is all blurry, but I am very amused by the way the breeze picked up the ruffle/sleeve so it looks like I've rigged it up with fishing line or similar!
Which of course leads us logically to question number three - if I was to dye them, then
what colour should I choose?
Black is the obvious frontrunner due to versatility and trans-seasonal factors, but I keep being tempted by thoughts of jade green, fuschia or hot purple. Advice and suggestions not only gratefully received, but demanded!
Black pleather bootie things - $2 (not a typo) Rubi Shoes sale
Shoe Number Two is a much more straightforward proposition - should (or "shoed") they stay or should they go?
They're pretty pleathery, plasticky and all round nasty and come from a super el cheapo mall shoe store chain which smells noxiously of bubble gum and the toxic fumes belched out of unregulated Chinese factories. I bought them when I was hunting for accessories for my eighties theme party costume (husband refused to wear the pants by the way, despite the poll results), they were the freakishly low price of two bucks and I entertained notions of spray painting them white for the party.
I cannot for the life of me decide if they are ok or not. They are actually quite comfortable, but the pleather factor does put me off - not to mention the fact that they are some kind of unholy boot/shoe/biker boot/gladiator sandal hybrid the existence of which goes against all natural law. My other PVC/PU boots are my wet weather standbys, water resistant and impervious to destruction (and obviously with a half-life of 40,000 years), but these aren't going to be much use in the rain with those big cutouts in the sides.
So tell me, should I stick these in the charity donation bin under cover of darkness, or are they acceptable for openly wearing during daylight hours? As ever, I turn to you for guidance in these vital matters!
xx
Skye
PS. The little dude has been hitting all sorts of milestones and rites of passage lately, including getting his first haircut. His crazy baby curls got fried by swimming pool chlorine and turned into frizzy matted semi-dreadlock disastrousness, so we were forced to take drastic action. Little dude very pleased with his new big boy hair, parents gradually getting used to more mature appearance of small ferret about the house!