...welcome to the Wacky Jumpsuit edition of Skylark and Son!
Diane Fres eighties jumpsuit - $49 (hangs head in shame) ebay
Black leather heels - $40 Sportsgirl sale
Eighties gold/black disc earrings - $3 op-shop
When I appeared (materialised?) before my husband in this jumpsuit he went white with fear and said, "What... the hell
is
that?!" before muttering something about Priscilla Queen of the Desert and scurrying back into the safety of his lair/office. I'm guessing he spent the rest of the afternoon messing around with his 3D modelling pre-visualisation storyboarding software thingy and trying desperately to banish this particular mental image:
I'm highly tempted to suit up again and put the frighteners on him with a bit of lip synching and voguing before bed time!
Sorry about that dalek sticking its raygun into the corner of all my photos, I had my tripod around the wrong way today.
I'm not sure I'm quite the statuesque glamazon to do this jumpsuit justice (maybe
Claerwen
would work it the way it deserves), but it makes me feel pretty good anyhow. I do think I need bigger hair for it though - something a bit Bonnie Tyleresque, perhaps!
I have been on the look out for some giant disc shaped earrings for ages, ever since I dreamt of a pair months ago (any thoughts for us on that one, Sigmund?) These eighties ones presented themselves to me in an op-shop a couple of weeks ago and I am quite thrilled with their gigantism - and the fact that although they look like metal, they are actually made from super light wood with coiled metallic cord glued on. So despite their enormous circumference they don't weigh my ears down at all.
My far from exhaustive knowledge of eighties Australian fashion tells me that these earrings are from Bali, the wood being the biggest clue to their origins. The most common species of Balinese earring known to Australians is the dangling carved wooden parrot (I had a pair of purple ones), but then, as now, Bali was a cheap place for smaller Aussie designers to have their garments and accessories made. Current Australian labels designing and manufacturing to some extent in Bali include
Shakuhachi
,
Alice McCall
,
Natasha
,
Hussy
and
Mogil
.
Balinese batik jumpsuit - $2 ebay
Black leather eighties belt - $1 op-shop
Black suede Senso fringed sandals - $40 Max's Shoes Sale
Australia's proximity to Indonesia means that virtually the entire population has managed a trip to Bali at least once* and consequently we have a few decades' worth of Balinese souvenirs floating around our op-shops - the kind of clothes that people buy to wear on holiday, but which don't quite work for them back home in Bacchus Marsh or Cessnock or wherever. Wacky Jumpsuit Number Two up there being a prime example.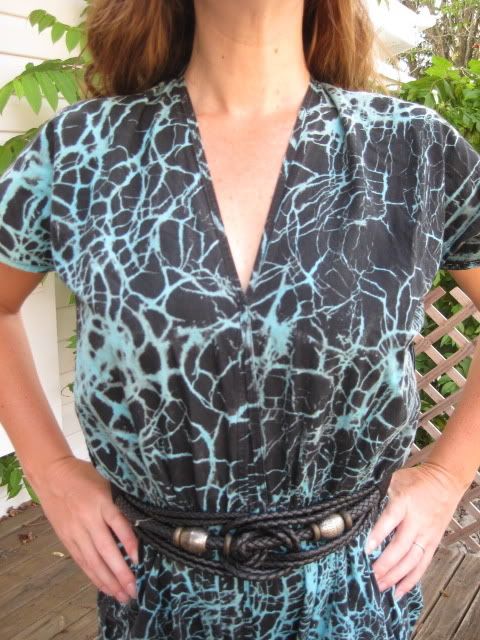 Bizarrely enough my husband kind of liked this one, and some random dudes on the front verandah of a house round the corner sexually harrassed me with great enthusiasm when I walked past them this afternoon. I cannot say I understand it - I do kind of like the jumpsuit (you know me, I've perverse like that) but it really does look like what Dr Oz was wearing when he got struck by lightning, or fell in a tar pit or something.
Dr Oz was the bane of my existence when the little dude was a newborn (well actually the bane of my existence was sleep deprivation, closely followed by explosive projectile poo, but just go with me here). I'd sit down for my hour long breastfeeding sessions at Oprah time, and instead of some uplifting makeovers or home renovations, I'd get Dr Oz haranguing me about my cholesterol or showing piece of fat clogged artery pickled in a jar or something. I resent him still, after all surely the time in life when you should be able to enjoy your cholesterol without harassment by some guy in scrubs is when you are FEEDING ANOTHER HUMAN BEING SOLEY FROM YOUR BODY.
Patchwork duffle bags and satchels like this one ($2 op-shop) are another classic Bali souvenir op-shop staple - I usually ignore them but something about the colours in this one made me like it enough to buy it. At least I think it was the colours, but I might just have been hypnotised by the
Rubik's snake
I bought the same day ($1 op-shop), and felt an uncontrollable compulsion to surround myself with triangles...
I've been working out how I can fashion the snake into bangle shapes, but I think that wearing a Rubik's Snake as jewellery would actually be a Nu Rave bridge too far. I think I'll leave it to the youths in the giant fluro pink sneakers, so if any nu-rave youths are reading this - please feel free to adorn yourself in Rubik's Snakes and I won't ask for any royalties at all!
xx
Skye
PS. Here's the little dude and his mate Arch hanging out in their sunglasses. No reason, just because they're cute (and sort of remind me of a mini toddler version of Entourage).
*
I've Been to Bali Too

Qantas flight 20, Denpasar
Meals and accom and a rent-a-car
I've been to Bali
I've been to Bali too

Took a two week course at a suntan clinic
So lying round Legian I wouldn't look anaemic
And you can't impress me
'Cause I've been to Bali too

Got a ride out to Kuta in the back of a truck
Cost me twenty dollars and it wasn't worth a buck
Hustled to a losmen down in Poppy's Lane
By a Javanese guy in a tropical rainstorm,
Lock up your daughters
I've been to Bali too

Life is tragic hanging out at Kuta
If you haven't got a car, a bike or a scooter
Show me the bike shop
I've been to Bali too

Got myself a Honda, had to get away
No brakes, bald tyres,
five thousand 'rupes' a day
I've been to Bali too

Well I don't ride a bike much home in Australia
As a motorcycle hero, guess I'm a failure
Bemos to the left, trucks to the right
The Honda was a wreck but I was alright,
Hello Mercurochrome
I've been to Bali too

Wired home for money, I was short of cash
A dose of Bali-Belly and a tropical rash
Daddy came through - American Express
Bali T-shirts, magic mushrooms, Redgum bootlegs
I've been to Bali too

Took my bag and mozzie coils to Peliatan
It was there where my Bali trip really began
Been there, done that
I've been to Bali too

Tourists from Holland, Britain and France
Late night puppet shows, legong dance
Want to see my slides?
I've been to Bali too.

Well, I wandered off to Ubud, just a little up the track
One week there didn't want to come back
Listening to gamelon and playing guitar
Tjanderi's tacos, Hotel Menara, two month visa
I've been to Bali too.

Flying Kangaroo out of Denpasar
Left me camera in the airport bar
I've been to Bali
I've been to Bali too

Touch down, touch down Tullamarine
Sprayed me on the plane so I'd be real clean
Coming though Customs
I've been to Bali too

They went through my bags like McCartney in Japan
I didn't have a thing so I didn't give a damn
You can't trick me
'Cause I've been to Bali too

You've been to Paris and you've been Boston
You've been to Fiji and you've been to London
But you can't impress me
'Cause I've been to Bali too

From the Redgum album "Frontline", 1984
John Schumann: Universal Music Publishing Pty Ltd