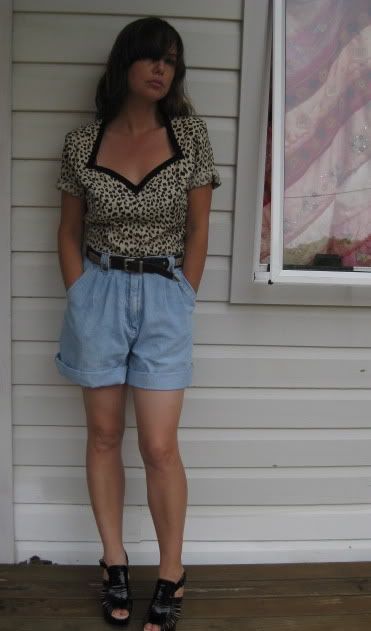 Leopard blouse made by me from op-shop dress - $6
Eighties light denim shorts - $3.50 op-shop
Black leather eighties belt - $1 op-shop
Black patent leather wedges - $30 Wittner sale (were $170)
When you think of leopard, or cheetah, or ocelot or any other big-cat-derived print, what comes to mind? I'm betting most of you are envisioning something kind of slinky, maybe a wee bit slutty, a little punk rock or a lot Jackie Collins right now. Something like this:
Yes, think leopard and Beverley Hills Wives spring to mind, not Baptist Housewives - so how do you explain this:
This is one of the strangest dresses I've ever come across for the simple reason that it just doesn't know what the hell it wants to be. The top part is all hard edges and structure, the bottom part is all swishy and shapeless, and the whole thing is made out of a polycotton poplin of a thoroughly serviceable and distinctly non-glamorous nature. And then there's that leopard print.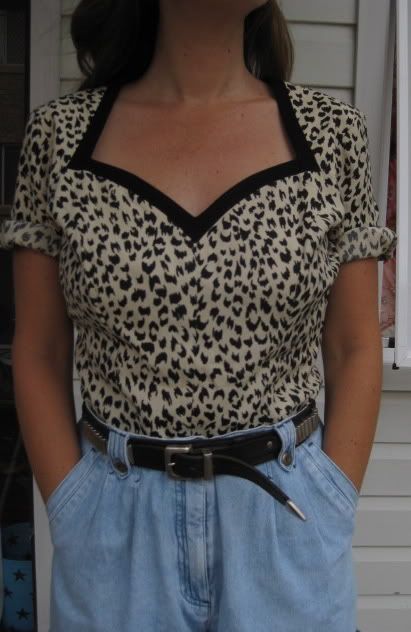 Maybe, just maybe, if this was made out of some kind of slithery shiny satin I could picture it as the going out attire of some superannuated showgirl - but poplin? Poplin is the fabric for sensible blouses and bank teller uniforms, not aging sex kittens with too much gold jewellery and too many stories about the one that got away (he had a used car dealership, biggest on the Coast, wouldn't leave his wife in the end).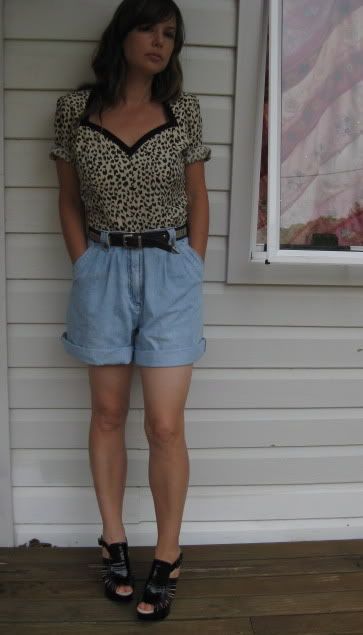 Yep, this frock was a feathered fish
*
, no two ways about it - so the answer to its confounding multiple personality problem was to divide it into separates. A structured blouse and a swishy skirt instead of one dress which was neither one thing or the other.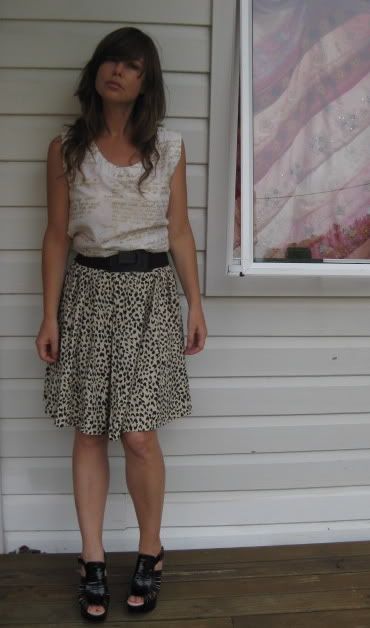 That's more like it!
I like this skirt a lot, I forsee it having a future which continues long after the weather cools down and the humidity drops to something approaching a level which supports human life. It has a nice slouchiness which can be quite ladylike, but also a has some "tude" (a truly appalling word, deployed by my husband ironically at our first meeting - but delivered in such a deadpan manner that I completely failed to register the irony and instead just formed an opinion of him as the biggest tool in the known universe.)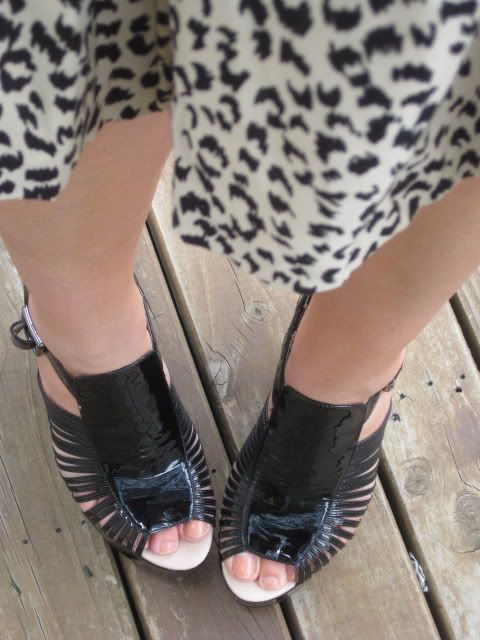 I think these giant platform wedges have transeasonal potential too - I can definitely see them with some tights. They have the same duality thing going on as the dress in its original form, but whereas it was a liability for the dress, I think it works for the shoes. They're shiny and super high and they're platforms - but they're also very comfortable and easy to wear, which makes them sensible and practical too. I can chase the little dude down the road in these, but feel like a foxy lady doing it!
Flash photo to show the detail.
Special note must be made of this black eighties top I op-shopped a couple of weeks ago ($2.50), it has an applique flower on it with leaves in...silver leopard print! I always like these kinds of eighties tops with that particular cut which can be tomboyish or pretty depending on my mood, and this one has a nice worn-in floppiness too.
So ends my first foray into the world of the long frumpy frock - although the simple fact that there are more of them in the world today than any other item (and that includes plastic shopping bags) means that I can almost guarantee this won't be my last ...
xx
Skye
PS. The other day the little dude and I were trapped indoors all day while a mob of yobboes and hoons (are those words uniquely Australian, or are they more widely used?) rioted in the streets. In an effort to distract my stir crazy toddler I gave him a very haphazard face painting job with my old spare makeup. I almost immediately regretted my actions because suddenly it was like I was sharing the house with either a tiny scary clown straight from the pages of Stephen King, or the littlest jaded 1930s cabaret artiste!
*
Read
this fascinating article from the New Yorker
if you want to know more about feathered fish, and the men who love them. Well not really, actually it's about movie marketing but it does give some insights into the strange, strange (and not a little scary) world I find myself in half of the time - and it does explain the whole feathered fish thing too.