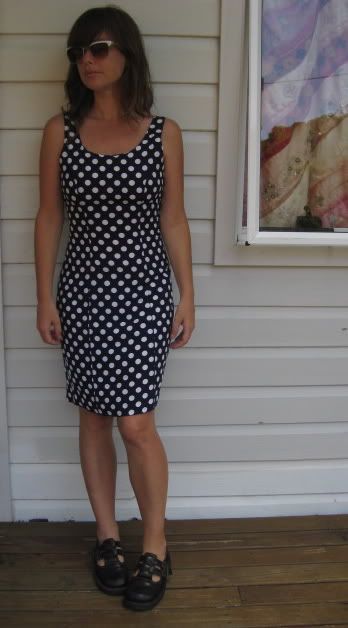 Spotted shift - $2 op-shop
Le Specs reissues - ebay
Doc Martens brogue maryjanes - $3 op-shop
I've got to tell you straight up, I really rather hate Doc Martens - although that wasn't always the case.
As a poverty stricken first year university student in 1990 I wore a pair of plain low lace up Docs (or "DMs" as we used to call them) every single day for a whole year - such was the depth of my desperate yearning for credibility and the shallowness of my shoe collection (three pairs).
I aspired to be like the coolest, sexiest girl at uni who wore her Docs with fifties cotton sundresses, cats eye sunglasses, bare legs and a birds nest of peroxided hair piled on her head (with about three inches of black roots). She had messy (and probably dirty) love affairs, a throaty chuckle (which with hindsight I'm sure she practised at home in front of a mirror) and seemed like she wasn't trying at all. I gave the vintage frocks a shot, but in the end my natural tendencies asserted themselves and I wore my DMs with velveteen hotpants, crocheted catsuits and psychedelic mini skirts. My dalliances were never more than a bit untidy, my laugh was (and still is) an exuberant cackle and I spent my time bouncing around and dancing like a fool and trying awfully hard to work out just what the hell I was all about.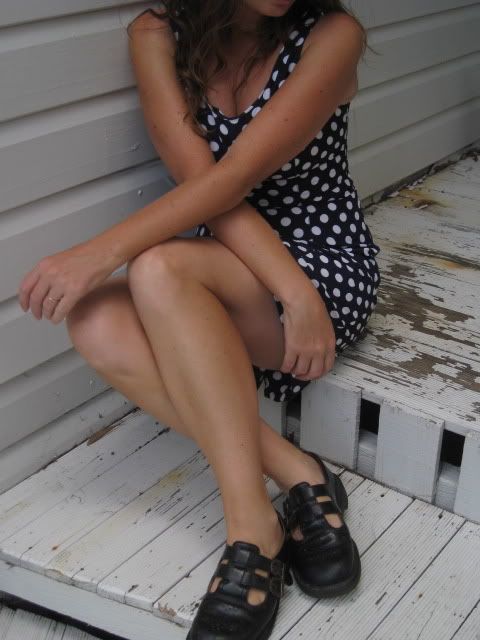 I did always hated the cherry Docs though, and those ones with the yellow stitching, and by the time my mother had a knock-off pair of six hole boots (with horrible little padlocks on them, no doubt some youth has salvaged them from an op-shop now in triumph and joy) I had grown to loathe the very sight of those chunky soles. Eventually the trend waned and Doc Martens went from being ubiquitous back to being worn by glum grunge teenagers, earnest people handing out Socialist Left Weekly outside of train stations, and skinheads. In other words, people who are very determinedly not sexy.
Of course in more recent-ish times lots of gorgeous young things have been clomping around in Doc Martens, but I have been utterly resistant to the revival. Partly due to my ingrained loathing (you try wearing the same pair of shoes for a year and NOT hating them) and partly due to the fact that I know I look kind of dumpy in them. With black opaques and the insouciance (and legs) of an eighteen year old I could get away with the bovver boot look, but I think that particular ship has sailed. So how is it that I come to be wearing this pair of cornish pasty shaped chunksters?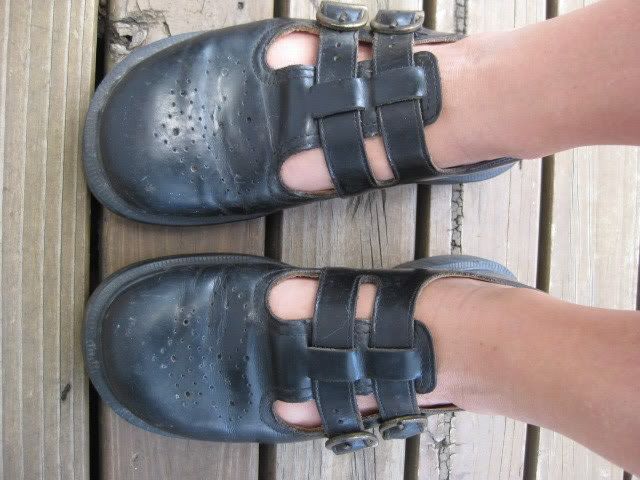 I blame
this photo from Jak & Jil
, which ignited little flickers of nostalgia somewhere deep inside (those are just like the ones I wore so long ago), and the fact that about two hours after seeing that picture I ran across these shoes and they cost a mere three bucks. Back in the day I had to save for about six months to afford a pair of Docs - and make a three hour train trip to Sydney to buy them. So a heady cocktail (well, more like a college bar happy hour shandy) of fond memories and cheap price tag prompted the purchase, but now I want your humble and not so humble opinions about whether they stay or go.
Points for Staying:
- they are undeniably comfortable, always a plus when there is little dude wrangling to be done;
- $3 is still a bargain;
- if I am suddenly gripped by the desire/need to wear the same pair of shoes for a whole year then these would be hard wearing enough for the job;
- the brogue/maryjane combo is kind of cute and girly, no?
- maybe with a skirt and black tights they'd look ok for a puddle jumping winter's day.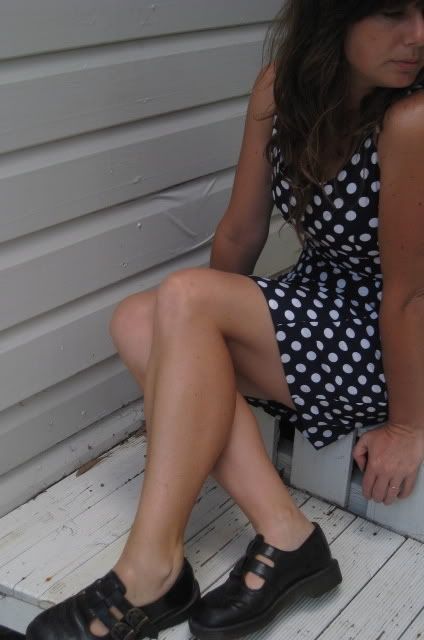 Points for Going:
- I have short stumpy feet, so no matter what, Doc Martens are going to look wide and sort of abbreviated on me (ie. the cornish pasty effect);
- I am not generally a comfort footwear proponent - having been blessed with sturdy flipper feet I have been able to ignore Crocs, Birks, Masseur Sandals and all their orthopedic cousins. Why change now?
- there might just be a kind of minimalist elegance to a pair of plain low lace ups, but hole punched t-bar double strap maryjanes? Not minimalist, not elegant and maybe just way too much going on for an alleged classic shoe.
- I know I always say this in these posts, but there is a very real danger for a person of my vintage wearing a literal interpretation of a trend from my youth - the danger of looking like I haven't ever moved on, that I'm stuck in the early nineties and won't ever leave. Or like I should be standing outside the railway station with a pile of unwanted Socialist Left Weeklies...
Anyhow, what you say - Should they stay or should they go?
xx
Skye
PS. Happy fourth wedding anniversary to me and my husband today - hence the blue spotted frock which is his favourite. I love you baby!