Bassike cotton voile Oval dress - $70 (reduced from $160)
Cotton On slip underneath - $10
Elke Kramer Trompe le oile resin bangle - $70 ebay ($160 retail)
Sportsgirl leather heels - $10 op shop
Sometimes I wish I was really a minimalist at heart - that I could just post some photos and maybe a couple of lines about them and hit "Publish" and be done with it. If I didn't struggle with minimalism, if I could just get all pared down and mid-nineties, then today's post would look like this:
+
+
=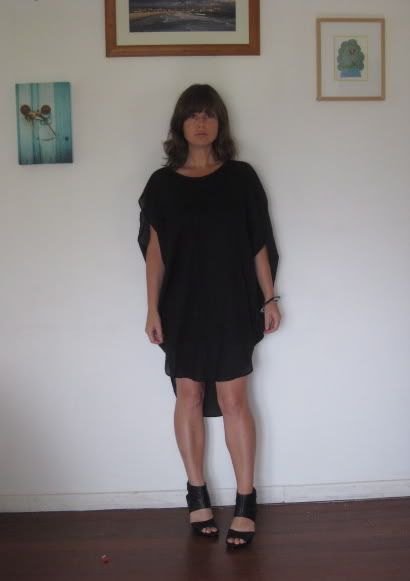 xx
Skye
Eh, never going to happen! Accessories, adjectives, anecdotes - I like to pile 'em on and that's just the way it is.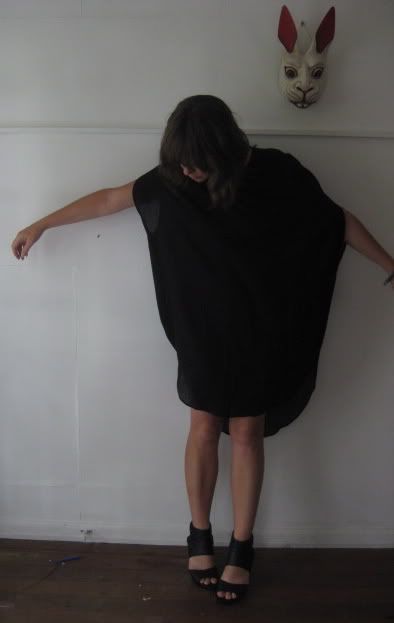 I've had a thing for this dress for a while, but absolutely could not (and would not) pay $160 for a big voile oval - so I stalked the
Bassike website
until it went on sale and then I snaffled it up in a haze of credit card-related gluttony. I kind of wish I'd got the navy one as well: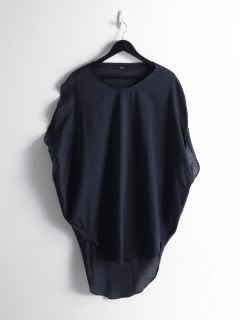 ...because it doesn't have quite the same Buddhist nun/Harry Potter robe connotations, black being the ideal shade for silent contemplation and teenage wizardry (not to mention graduating from university and taking holy orders). Moody, enigmatic glamorous vampire bat type people might also be found flapping around in a winged black dress like this one - swirling mysteriously off into the night sky to a moonlit gothic castle somewhere. I, on the other hand, am rather more flying fox than vampire bat and far more likely to be found hanging upside down in some shrubbery eating a mango, or flying in for a furry fruit bat hug.
Awwwww, almost entirely gratuitous fruit bat action!
Egg shaped sacks in midnight black are also ideal for dinner parties - no need for waistband loosening after that second helping of dessert, or fear of staining from red wine sloshing out of glasses brandished by exuberantly gesturing drunken people (that would be either me or my husband). And if you're too tipsy to drive you can always fly home!
This is what happens when a flying fox goes corporate and gets a nine to five gig (that's 9pm to 5am by the way). I struggle with minimalism and I struggle with structured jackets and yet I persist in the face of ever mounting evidence that I wasn't designed for the wearing of the blazer. I blame the media.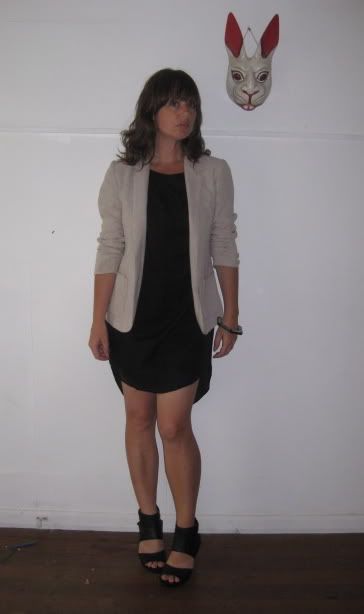 Flash!
This linen specimen was five bucks from Bondi markets a few weeks ago when I made a flying visit to Sydney, and I only bought it because I felt like I had to bring
something
back with me. I bought it from this really bitchy dude who, while I was browsing the racks, actually prevented someone from buying a dress from his stall because they were supposedly too ugly to do it justice. She just took the punishment too - I think I would have punched him on the nose! I did have the following exchange with him on the subject of the jacket though:
Me: Hmmmmm.
Him: I actually don't hate the fit of that on you.
Me: Eh, it would probably fit better if I had less in the breast department.
Him: (cheerfully) Well, you can always cut them off!
Why did I give him my money? Why?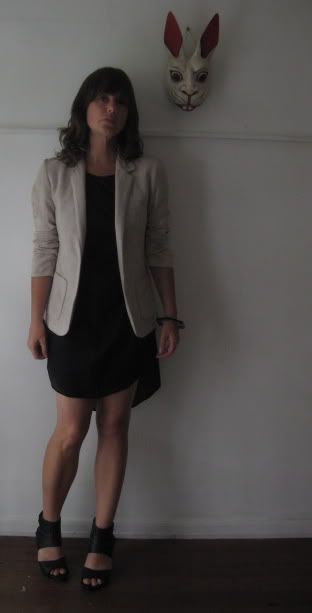 Looking all depressed because I gave five bucks to that guy.
Did you notice that I got my hair cut? It's the ritual end of summer shearing of the crispy sun and salt-fried beach hair, happens every year, and every year makes me feel like I've lost my superpowers for a couple of weeks until the straggles re-grow, regroup and reassert themselves. It took me a while to find someone to cut my hair (always a challenge in a new town) but after a few dead ends I managed to stumble upon a sneaky secret salon with a sausage dog wandering around, Noel Coward on the stereo, and a hairdresser who's carefully collecting a clientele to create a "daylong dinner party". I might have to wear my oval dress next time I get a hair cut, being as it is my favourite dinner party dress of the moment!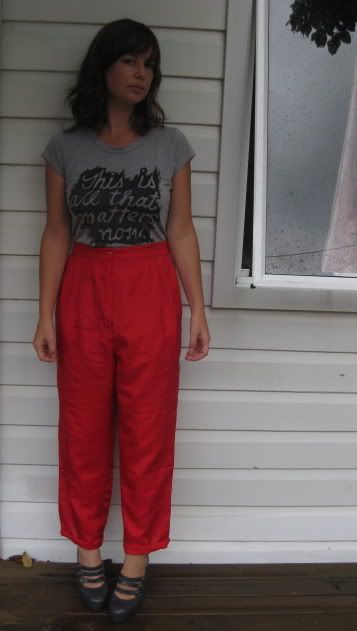 Sass & Bide t-shirt - $2 Bondi markets ages ago
Grey patent leather Mollini Chloe knock-offs - $20 (new) op-shop
Red & aqua silk pleat front pants - $1 op-shop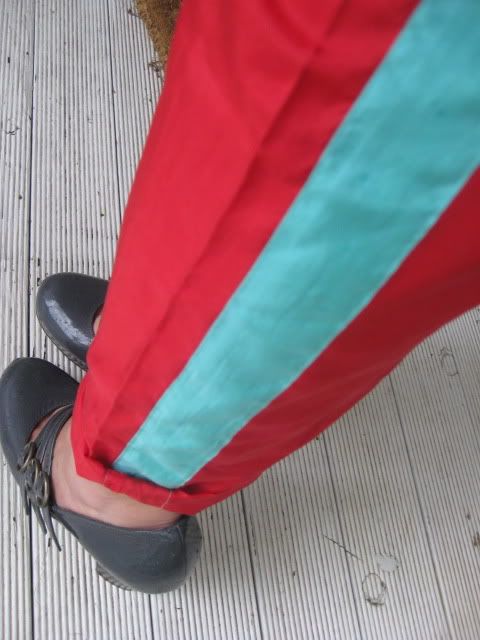 Secret side stripes on my silk trousers - part marching band uniform, part Adidas parachute pants.
Just for a thrill (ha!), this is what I wore today for desultory bit of rainy day op-shopping and puddle jumping. I've been in a tomboyish mood all week, must be the shorter hair...
xx
Skye