Black jersey singlet dress - $10 Cotton On
Jeffrey Campbell brogues - courtesy Solestruck
White silk shirt - $4 op-shop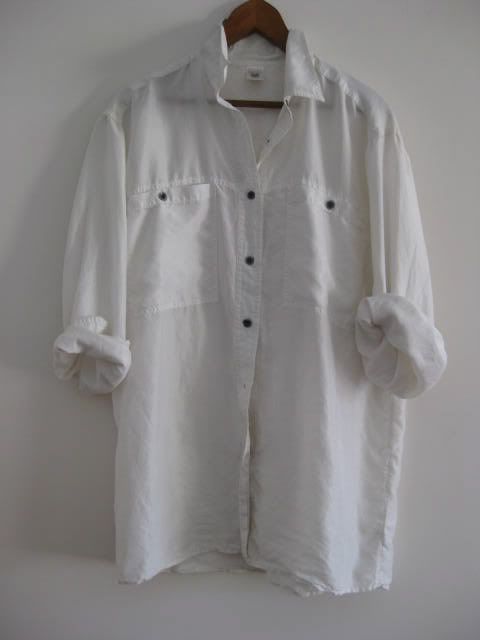 I am so tired tonight I can barely keep my eyes open, partly because the little dude woke me up three times last night asking for a glass of water or a hug, but mostly because I'm coming down off an extreme fairy floss sugar rush. Yes, today was
Show Day
.
I needed the sugar just to survive the riot of sideshow alley, dodgy looking rides (which are genuinely scary because I know they were all just put up the day before by some guy with a mullet), circus, dagwood dogs (bleurgh), formation dance routines by local talent school students (the spirit fingered jazz ballet of my youth has given way to a sort of hip-hop pole dancing without the actual pole, even for the tiniest little girls), men in giant bouncing kangaroo suits (complete with huge furry testicles), camel rides, laughing clowns, kewpie dolls and all the rest of the weirdly alluring and utterly dubious attractions of the Show.
I actually wore it like this as the knotted version had some unfortunate mutton-ish qualities.
Maybe that's why I wore an outfit which is pretty much the dictionary definition of "plain" - no point in trying to compete with the glow sticks, neon afro wigs, and talent school teens wandering around in orange body makeup and fluoro green leotards.
Once upon a time (in my misspent youth) my friend and I wound up in a Mcdonalds at about 3am while we were tripping, and we got really freaked off by these people in there with strange faces and orange skin, which alarmingly seemed to be peeling off their bodies. Everything about them (eyes, mouths, hair) was too big and they seemed to be glittering and shimmering before our messed up little eyes. We fled the scene and took our poor old brains somewhere less hallucinatory - and then the next day discovered that the Australasian Ballroom Dancing Championships had been held the next street over. So it wasn't the acid at all, they actually were orange body painted glittering freaks. No tripping today (except of the not-watching-my-feet kind), but that orange makeup still does my head in.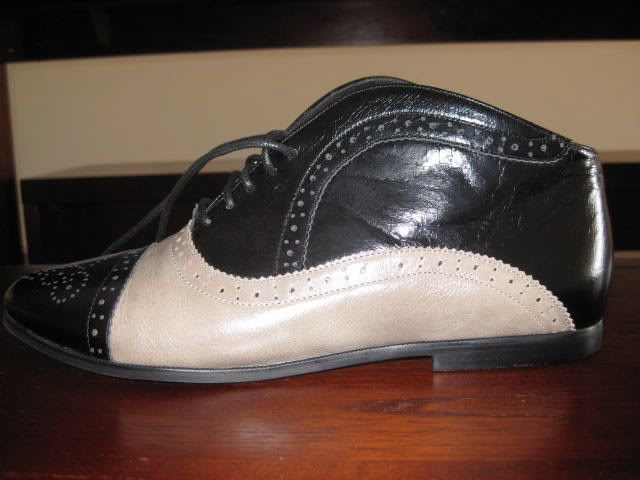 I had the sweatiest toes in town today, but sensible shoes are the way to go in any place which combines a sea of humanity with various kinds of animal poo (goat, alpaca, cow, camel were all sighted and narrowly avoided). I always thought I was the only person in the world who wasn't buying the old "every woman must own a white shirt, it is the most versatile garment blah blah blah" thing promoted constantly in women's magazines since the late triassic era, but enough other bloggers have posted about it that I now realise I was just one of many sceptics. I do remain unconvinced by the whole white shirt thing though, for me it says just one thing:
"hospitality job."
Two of the most chilling words in the English language!
I must admit all day I was having flashbacks to my stellar career as the world's crummiest silver service waitress, and the all time lowlight thereof - the Night of the Zoloft Zombies. Which was not at all what you might be thinking, but something far more terrifying than I can ever convey in mere words. I will attempt it though!
The time: 1996
The place: the Imax Theatre, Sydney
The event: a presentation (with drinks and nibbles) for doctors about the newly introduced antidepressant Zoloft, catered by the company I worked for, supposedly the most prestigious caterers in the city at the time.
Sounds innocuous enough doesn't it - what could a bunch of mild-mannered suburban family doctors, standing around a cinema lobby decorated with giant cardboard daisies at 6pm on a Wednesday evening, possibly do that would be so awful?
I still don't really understand what went so horribly wrong, but somehow this particular group of people got so rotten drunk so incredibly fast that they lost their minds and started to literally behave like animals. When we carried the trays of food through the room they mobbed us and were grabbing fistfuls of food, dragging the platters out of our hands, smearing food on walls and floors, throwing glasses, pulling our hair and clothes, howling like maddened beasts.
At one stage I had a woman actually hanging off me as she attempted to grasp at food I was holding, I'm only 5'2 (and at the time was a mere scrap of a thing of about 45kg), and she was on me, hanging onto my back with her arms over my shoulders. I couldn't shake her off, and only the press of the crowd mobbing me stopped me from actually falling over. Finally one of the barmen leapt the bar and dragged her off me. It was a scene straight out of Hieronymous Bosch.
Somehow the publicists eventually managed to herd the beastly crowd into the theatre and the catering company supervisors gathered the remaining staff together amongst the debris to try and rally the troops for the final battle (ie chocolates and apperitifs after the presentation). Half the shift had already walked off the job, effectively resigning rather than continue - the rest of us were a sorry sight, liberally coated in mashed finger food, bits of blue swimmer crab spring roll and aioli in our hair, our designer label white shirts barely white at all anymore. A couple of people had been bloodied, one barman taken to Casualty for a suspected concussion.
The supervisors were a pair of cockney wide boys, tough, fast-talking, nothing-could-faze-them guys who'd seen the world and been around the block a time or two. Yet they stood there before us shell-shocked, stunned by what they'd seen, they begged us to stay for the rest of the shift but they told us if we left we wouldn't lose our jobs, they understood that no one should ever experience what we'd just been through, they'd never seen anything like it. They offered us free booze and extra pay to stay, but in the end the publicists pulled the plug and just got the doctors out of there once the presentation ended. Apparently there was a fair bit of vomit in the cinema, and no one wanted to take any chances with trying to hand out the free Zoloft branded chocolates in case a riot ensued. We got the free booze and extra pay anyway, danger money (oh, and I took home about a hundred bags of undistributed promotional chocolate as well).
I guess the experience did stand me in good stead for toddler wrangling, although the little dude at his most feral is still a million times more civilised than the Zoloft Zombies!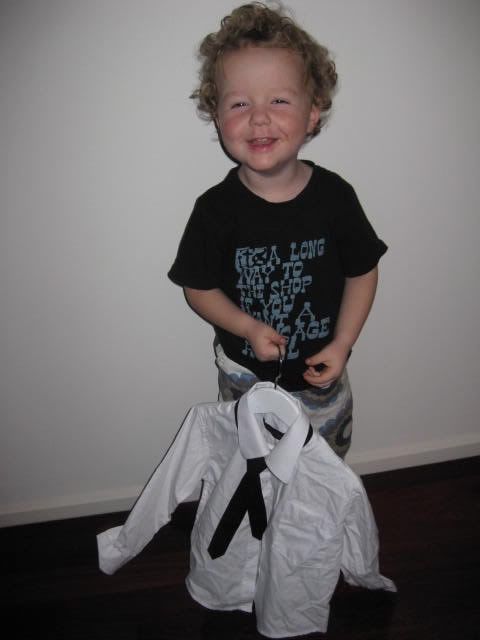 Flash!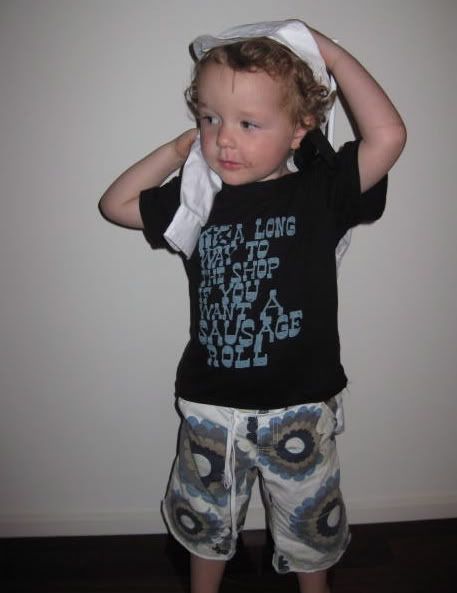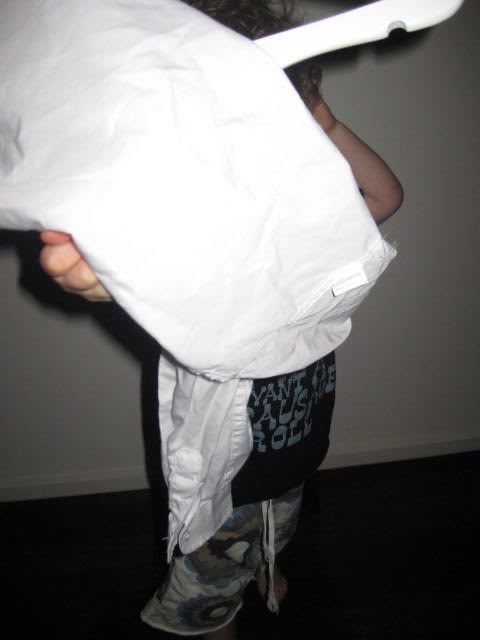 Damn papparazzi!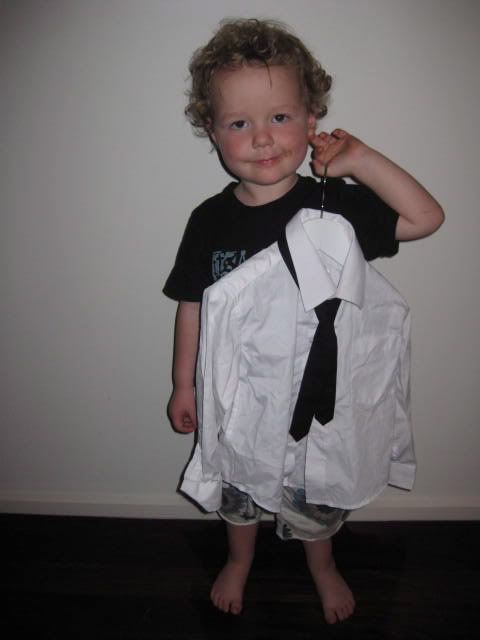 There is some white be-shirted cuteness afoot too - my little sister's wedding next weekend, complete with little dude in the role of pageboy. It's all suitably top secret for now, but rest assured photos will be posted in due course!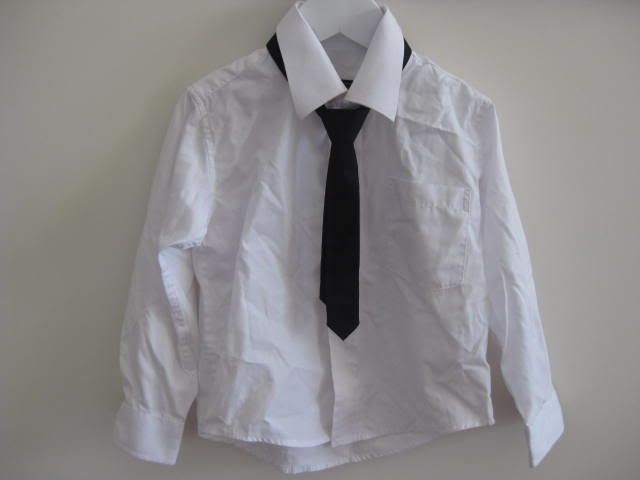 I promise I will iron the shirt and wipe the vegemite off his face before the wedding, so he doesn't look like he's already gone a couple of rounds with a pack of marauding GPs in search of free food...
xx
Skye
PS. Sorry about that whole Zoloft Zombies wall of text, catharsis can be very wordy!