Something top - $30 General Pants sale rack, long ago.
Camel pashmina - $2 op-shop
Black jersey harem pant things - $15 Sportsgirl sale rack, last winter
Natasha tan sandals - too ashamed to say how much they cost
El cheapo tiger ring - $2 Diva sale
Black wool and gold lurex jacket (early 80s I think) - $8 op-shop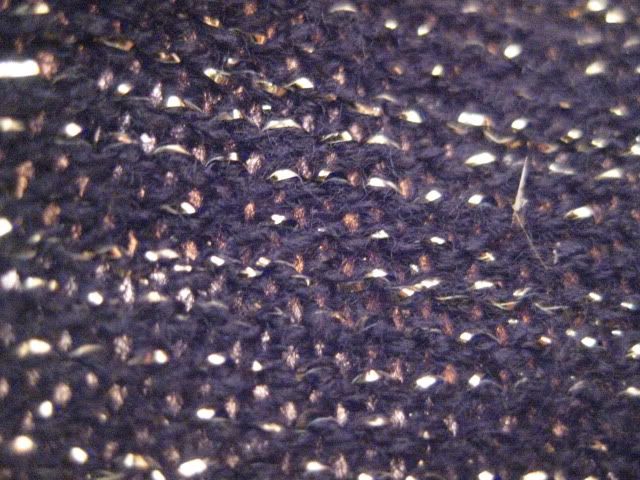 This post could most accurately have been titled "Mum Goes to the Dentist in her Tracky Daks", the outfit involved being of a decidedly prosaic dentist-visity sort. It was just an annual cleaning type dentist visit, nothing sinister, although the little dude (who sat in the corner throughout) was concerned when they tipped me backwards, and had to check I was ok. I tried to imagine the scenario from his perspective, and I have to say that I would have been far less calm watching my mother under the lights while strange masked figures poked at her with sharp implements and mysterious sucking equipment. God knows what terrifying hang-ups and ungodly
Dead Ringers
-style fetishes the poor child might develop now...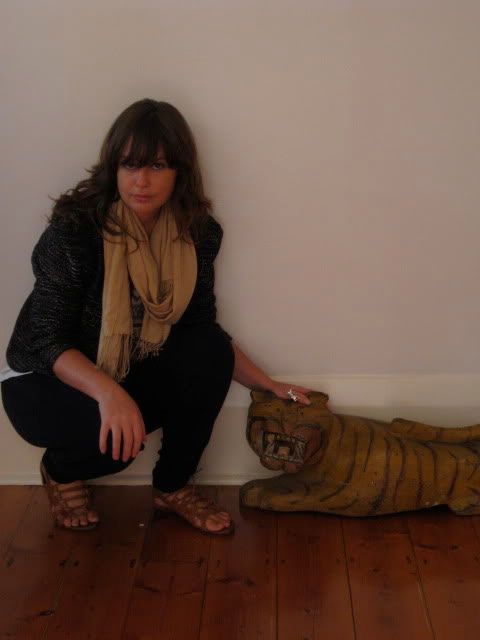 Sorry attempt at glamorous and exotic modelling of tracky daks.
Three seconds later .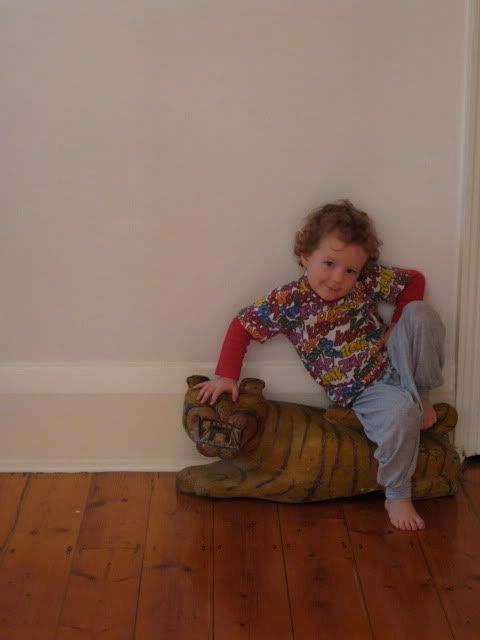 Usurped!
So yes, all a bit banal - but the photos exist because I have been trying to work out when and where works best for outfit photos in this new house, and city, and I thought I'd wrangle a post out of them in the meantime. Our little backyard is pretty good (the purply grey stucco painted brick shows great promise) but the sun falls in odd ways, and I am yet to establish exactly how to make it work for me, rather than against: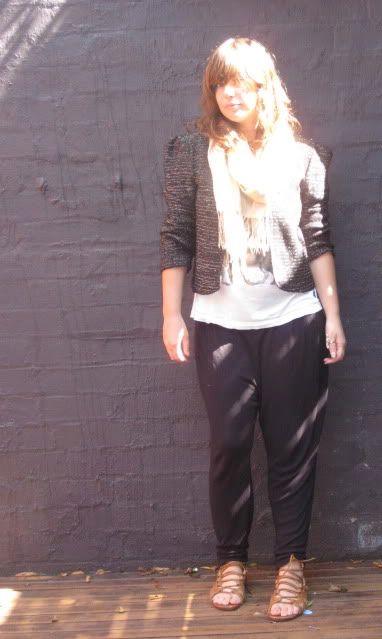 Not enough face, more than enough thigh.
Working both the wall and the pants far better than I.
I resorted to the tired old white-living-room-wall option, drafting our faithful javanese roof tiger in an attempt to break up the tedium of it all. He is a patient beast, putting up with all kinds of toddler assaults on his dignity (riding, sticking lego men in his teeth)but, like my husband, I suspect he is not really keen on making regular internet appearances.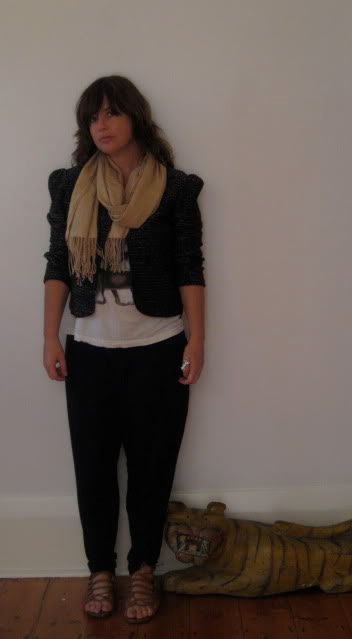 Photo in which tiger looks rather put upon, (or would if he wasn't carved out of wood and therefore incapable of making more than one facial expression, ever).
The little dude is a constant usurper when it comes to my accessories, if I am particularly attached to anything at all then I need to keep it well out of his reach, or it will be snaffled very snappily indeed. Now that he has mastered the art of step-ladder use, there are very few places in our house out of his reach - and most of them are out of my reach too. I am not very attached to this tiger/leopard/cheetah/generic diamante big cat, which is a good thing, as it was gobbled up into the depths of the dress-up box in record time.
My ongoing and endless struggle with structured jackets is well-documented here, but this little mouse eared item represents a compromise position, being a sort of cardigan/jacket hybrid. The lurex and wool knit fabric is stretchy and suitable for a day which includes spitting volumes of pink tinged stuff out of my mouth (let's not think any further on what that stuff might be) , but the cut of the shoulder gives it a touch more bite.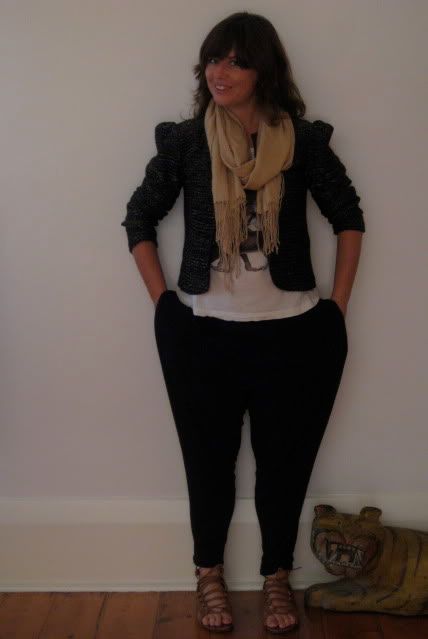 Minnie Mouse!
I have oft been heard to decry the owl/bird/tweeness epidemic which has been sweeping the world the last couple of years, so how do you explain this owl cushion in my new living room? It was a little dude acquisition at
The Village Markets
back in Burleigh, he formed a hopeless attachment to it one day (while I had a stall, and he roamed free making friends), and I kind of like it despite myself (must be the leopard print). The Village Markets are fighting to stay open right now, due to some unfair
argy bargy
with the Gold Coast City Council who want to close them down. If you have a moment then go sign their
petition
, because it would be very sad and a great shame to see them go (and I don't even live round the corner anymore).
xx
Skye
PS. Here's something which
is
round the corner now - The Mouth Opening, which is the little dude's name for Mr Moon, the entranceway at
Luna Park
(he's almost 100 years old).