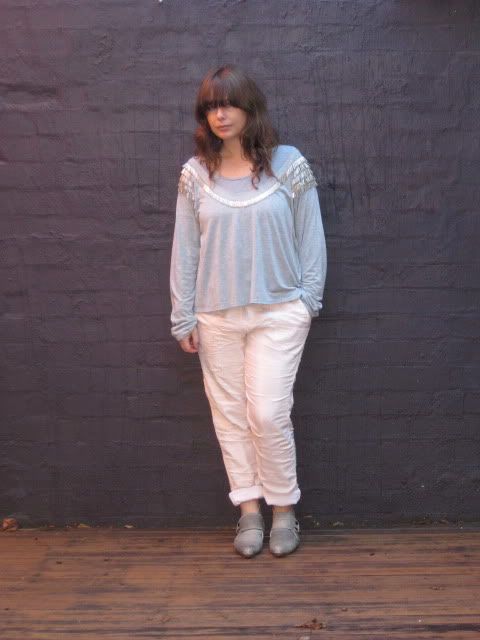 Pale pink silk eighties track pants - $6.00 op-shop
Grey marle ribbed top - $2 op-shop
Grey marle beaded top - $70 Sass & Bide warehouse sale
Grey distressed leather Mogil boots - $8 op-shop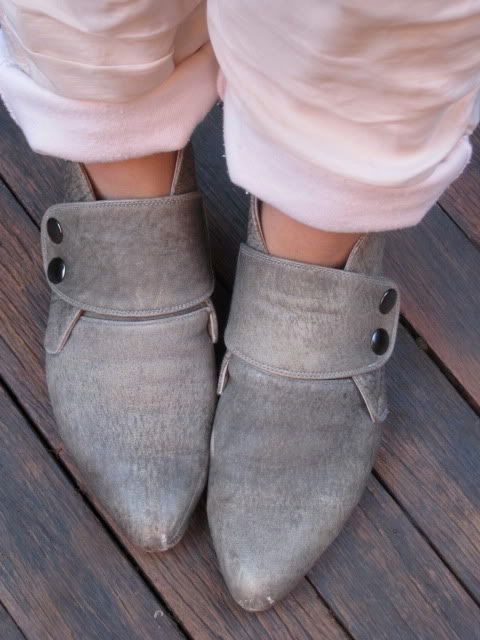 I'm looking a bit sheepish in that photo, and rightly so - after all, there are silk pants, and then there are silk tracksuit pants. With fleecy lining. Real eighties fleecy lining, which feels so deliciously warm and snuggly (there's the trap), and looks so decidedly daggy.
Tracksuit + bling = ghetto dagulous?
Perhaps I could try passing it all off as "sport luxe" or one of those other made up fashion genres that magazines come up with - except that I think that might only apply to cashmere tracksuits for wearing on private jets. Not fleecy lined silk tracky daks worn to little dude swimming lessons.
Hazy head disappearing in the fog.
In my defence I have been in the grip of yet another winter virus, which has left me with a head full of static, a runny nose, and no voice. It is quite difficult to wrangle a truculent newly four year old boy/ferret when lacking the power of speech, far more than enough to drive a woman straight into the seductive fleece lining of a pair of slouchy old pants!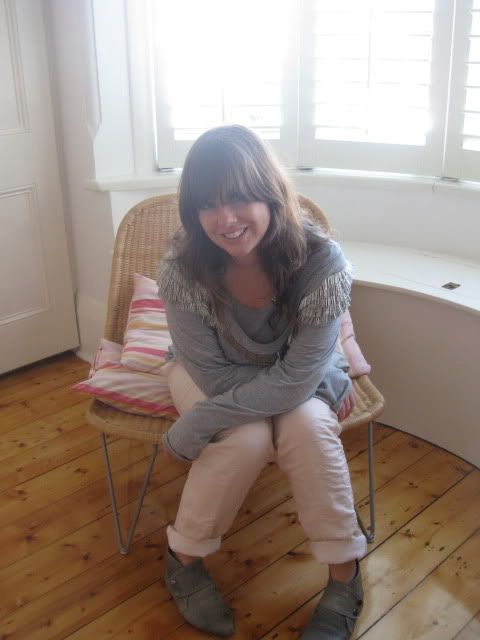 This photo above is one of those poses which looks like the posee (poseur?) is holding in a desperate need for a pee, but I'm not sure how to describe the one below. Although it has the look of one of my ill-starred attempts at creative photo composition, I think it is actually just a misadventure with the self-timer.
The living embodiment of slump.
Now I'm going to bed to do more snuggling in welcoming warm fleece (blanket not pants) and try to shake this damn virus once and for all!
xx
Skye
ps. Also fleecy, The Gruffalo: