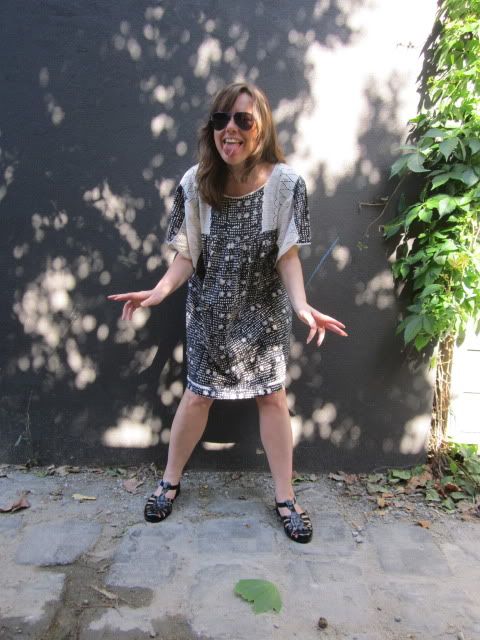 Vintage handmade smock dress - $6 op-shop
Cobalt blue aviators - $1 op-shop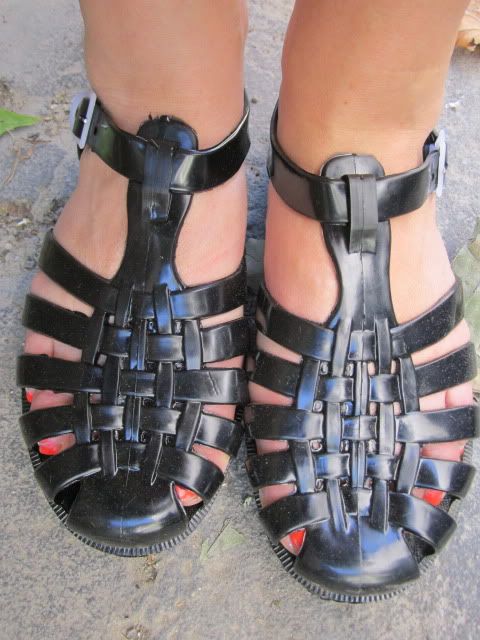 These make me feel like I am in Grade 2. Not a bad feeling for someone turning 40 in a mere(kat) TWO WEEKS.
I'll give you exactly one guess who took that top photo, all the while issuing very precise instruction as to how I should pose, positioning of tongue, etc. If you didn't guess this guy: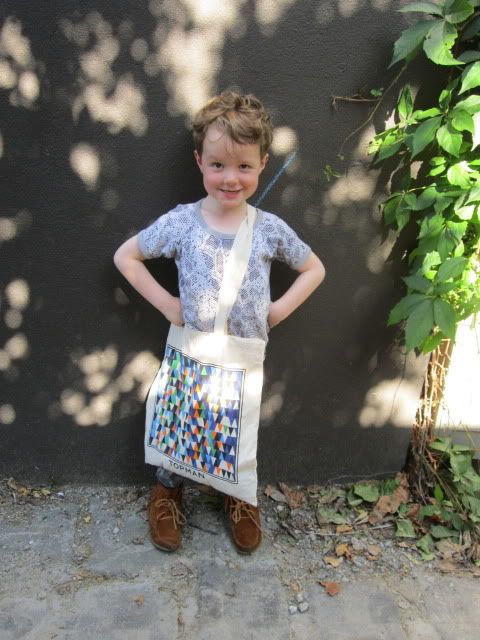 Snake print Rock Your Baby tee - $5 Ozsale (ages ago)/Tie Dye jeans - $7.50 Cotton On sale (also ages ago) / Topman bag, free from a street team
...then you've obviously never been to Skylark and Son before, and I warmly welcome you, first time visitor!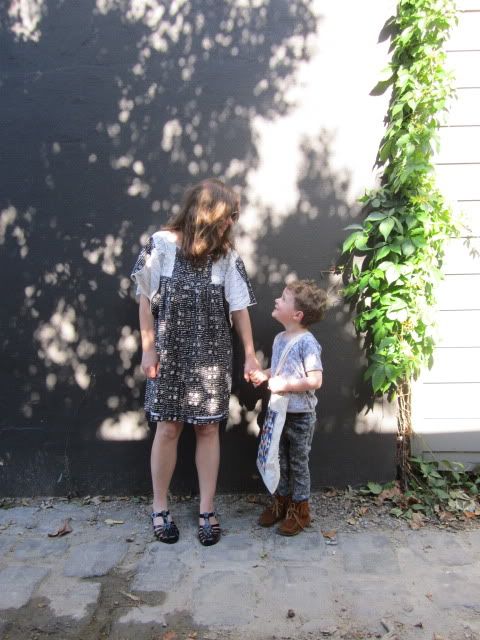 Much as I am looking forward to the ferret-free freedom that school will afford me, and the fact that I know the little dude is going to flat-out love it, I will definitely miss having my little companion always to hand. He is an excellent op-shopping assistant, an accomplished(ish) photographer, an endlessly creative storyteller, and just a highly entertaining and enterprising sort of person all round. Charming too!
Right, where are the rest of my compliments? I want volumes, lady, volumes!
Volume, not volumes.
Other things that I am finding nearly as charming as the little dude (and much less likely to be ferreting around not going to bed when asked) are my new smock dress, and his somewhat less new mini Minnetonka moccasin boots. The photo isn't very clear on this point, but the smock is navy blue with stars and spots in a vaguely japanese fabric, with the loveliest broderie anglaise. I had to cut a gargantuan ruffle thing off the bottom in order to render it wearable, but it has been worn multiple times since that necessary amputation. I felt slightly guilty about hacking it off, as someone had really beautifully hand finished those scallopy bits around the bottom, but sometimes you have to be cruel to be kind...
Minnetonka moccasin boots $24ish from Seed at DFO, reduced from $120(!)
This is kind of a terrible photo, even by my low standards, but it was my best result in attempting to capture the broderie. It also captured the dying days of the Great Fringeless Experiment of Spring 2011. A failed experiment, and proof that me and my fringe should not be separated. Never again! I'm leaving the fringelessness to the youths and people who do not have big square heads, and sticking with my unfashionable forehead fur for the forseeable future. Alliteration is like a virus with me, once I start I find it hard to stop. Must stop.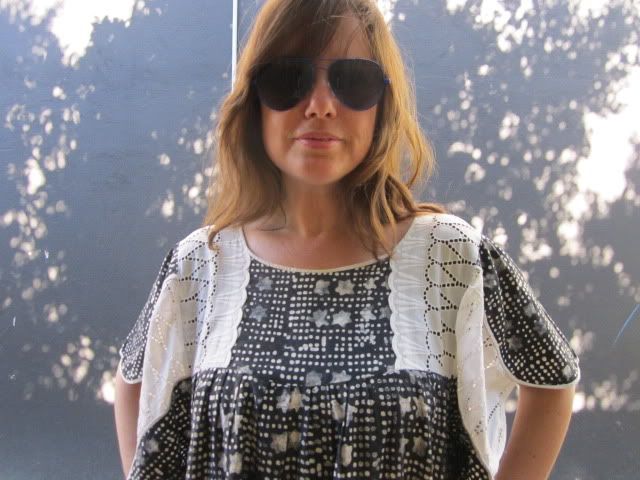 Here is a photo of the fringe, taken on my photobooth thingo, where I attempted a sort of pouty Gen Y facebook/myspace profile pic thing. I didn't really succeed in that, but I did manage to look a bit coy. I do not think coy is something I have ever actually been, in my entire career as a human female.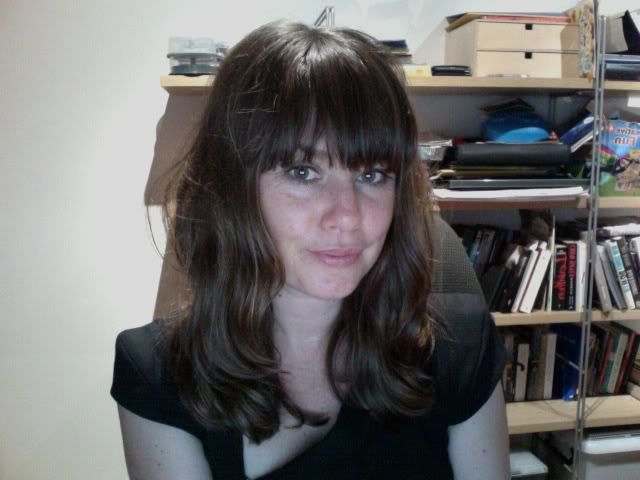 I am wearing work stuff, which is why it is all structured and pointy.
The fringe is not much chop as sensible corporate hair for me, but I cannot tell you what a relief it was to have it back. The minute it was snipped I breathed an actual sigh of relief - all was right with the world for that fraction of a second, and I felt just like myself again. I know just how foolish that sounds, but like some kind of giant ramshackle animate Minnetonka moccasin, I must be fringed and that is that!
xx
Skye
PS. For those shocked at the $48 jellies - they were an impulse buy one day when my shoes disintegrated on the hoof, but I outside of some horrid glittery pink ones in an op-shop, I haven't seen any others of this type around this year. A shortage?
PPS. it's beginning to feel a lot like Christmas: