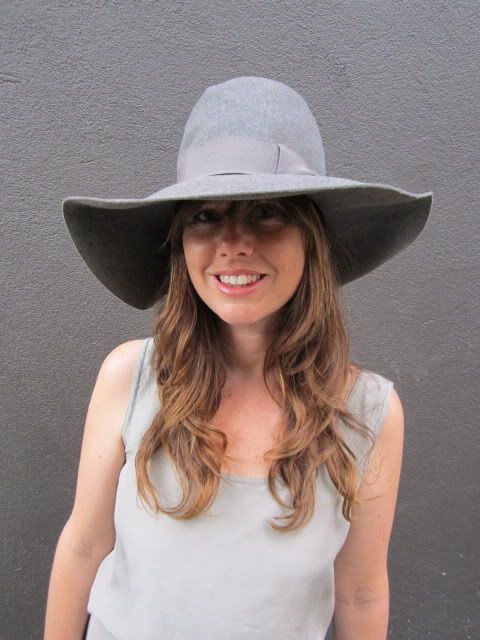 Vintage Lanvin felt hat - $5 op-shop
The other night I decided that what I really, really needed was one of those floppy brimmed black seventies hats. You know the ones. I have a dress to wear, and a party to wear it to, and if I have a black hat then my black shoes will work, and then I won't need to hunt down another pair of shoes, and so on (and on, and on) went my train of thought. A quick look around the online shopping world gave me a few options, but price-wise they were all a bit OTT for something that is just a fleeting fancy. Not to mention the finicky trickiness of finding a hat which fits and is flattering.
Anyway that night I had a dream, wherein I found the perfect hat, which would indicate that my subconscious is a very shallow place. However, I was quite grateful for a shallow hat-oriented dream emerging from the murky and troublesome back blocks of my brain for a change, since other recent efforts from my subconscious include:
- a dream where I had twin baby girls, one of whom was a fiend able to use a power drill for nefarious schemes from birth;
- a dream where I was crammed into a dirty mud hut with a selection of creepy sweaty clammy naked guys (especially this one gross dude with a single tear rolling down his cheek who kept staring at me in an intense stalkery way while caressing his own nipples);
- and a really, really terrible dream where I kept coming into our bathroom to find that someone had used the toilet with alarming results, and not flushed it.
I woke up and was disappointed to find the hat was in fact a figment, but that same day (last Thursday) by chance I happened to pop into an op-shop I don't usually visit, and sitting there on a battered styrofoam hat form was the perfect floppy brimmed seventies black boho hat. And its grey felt friend here, from Lanvin. For five bucks each. And they fit me perfectly. Spooky!
Also, nice work subconscious - but please don't conjure up the clammy naked guys, or the unflushed toilets...
xx
Skye