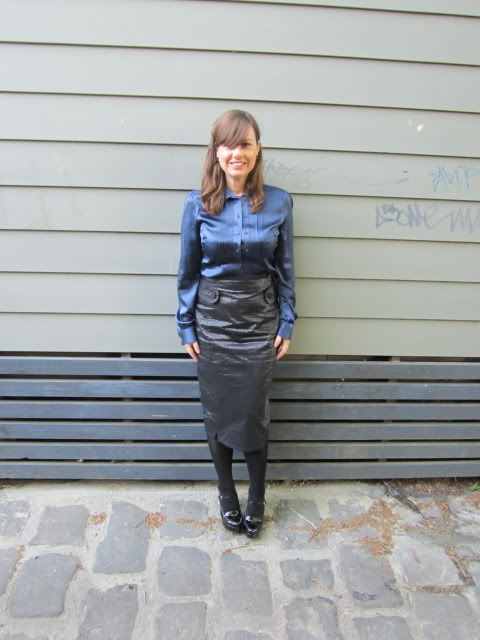 Navy silk Morrissey shirt - $10 op-shop
Mng brocade pencil skirt - $10 op-shop
Patent leather mutant platform loafer maryjanes - $50 Wittner sale
Navy flower stud earrings - $15 Mimco sale (reduced from $59.95)
I feel like these photos were taken ages ago, and I think they actually might have been because comparing my sensibly-corporately-cut hair up there to its current length, I can see it's already grown a couple of inches. Then again, the growing of hair is one of my few talents, so it might have only been a couple of weeks. Blogging hasn't really happened this week, so am making a last ditch stream of consciousness attempt before I go back to work tomorrow - I have been busy doing all sorts of mundane things instead, including buying comically large navy gaberdine shorts for the little dude to wear to school. He is deeply offended by these, and insisted I buy him the trousers as well, but those are even more hilariously oversized. He is also horrified by the jumbo polar fleece jumper, but thankfully very keen on the "legionary hat".
I haven't been struggling with my own weekday corporate "uniform" quite as much - I do like navy (and thankfully no one expects me to team it with bright yellow or polar fleece), although it is an awfully grown up colour. Midi is a very grown-up sort of skirt length too, even when shiny and cork tile-esque: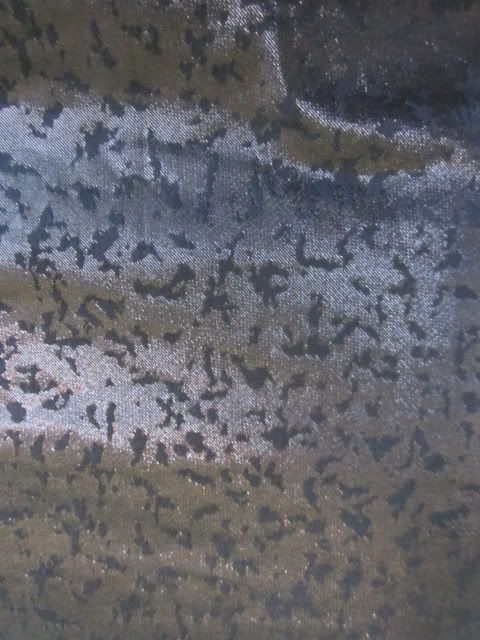 Isn't it just like a disco cork tile?
I feel a bit like a little orca at the moment, all that blue, grey, white and black, and time spent hanging out in a pod (of the open-plan office kind, not the seal-eating variety). I'd forgotten quite how many cakes there are in offices, and random bowls of chocolates and friday afternoon beers, and proximity to food-courts. All that, plus the occasional baby seal gobbled off a passing ice floe, has built up my layers of whale blubber very nicely indeed!
Someone asked me in the comments what kind of work I'm doing, I'm afraid the answer lacks glamour - web stuff on contract - but I am enjoying it. There's the aforementioned cake, and lots of things to make me feel satisfying adult - like hopping the tram in the morning with everyone all clean and shiny and fantastically well groomed. Although I must admit to being a sad, sad old lady in the Michael Bolton mode, with a deep (tragic?) need to listen to hip-hop on my iPod as I strap-hang along St Kilda Road.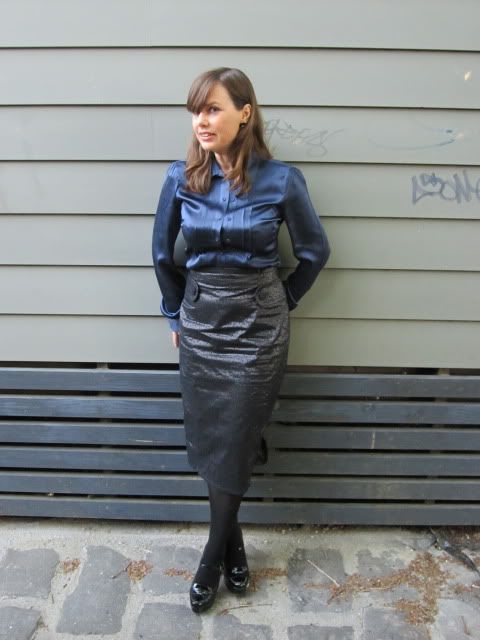 I've got 99 problems, but a five year old hassling me for cookies while I'm trying to go to the toilet ain't one.
Of course the tram ride home is decidedly grim in comparison, with the majority of my fellow passengers looking grey-faced and sapped of life, and their deodorant long since overwhelmed by regular smoke breaks and ill-advised polyester business shirts. Perhaps they too have a colleague who likes to use the word "verbalised" without irony. "Yes, Geoff verbalised that to me." No, Geoff TOLD you. He TOLD you. TOLD you. TOLD you. And also, Geoff is a person, some kind of specialist or expert in something or other. He is not a "Top Tool" to be "implemented". He might be a tool, for all I know, but not like that. Never like that.
Sorry about that. Flashbacks. That's one of the things you forget when you are out of office for six years - it actually is exactly like
Office Space
, and either incarnation of The Office (I lean toward the UK version, but either one will do for my purposes). Do you know my podmates like to secretly sharpen their Team Leader's pencil every time he foolishly leaves his desk for so much as a minute? Apologies for the Beavis & Butthead inadvertent double entendre there, but they really do go and sneakily sharpen his actual pencil. Whatever gets you though the day...
xx
Skye
PS. This is the little dude's favourite, I am indoctrinating him (radio edit versions for him, though).