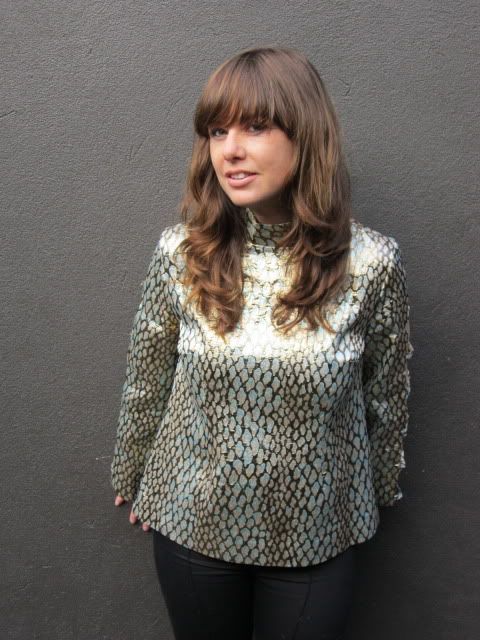 Snaky lurex sixties(?) cage sleeve top - $12 op-shop
Super tight black back zip trousers - $90 Elly M from some random Chapel Street shop
Bangs manes bouffants beehives Beatle caps butter faces brush-on lashes decal eyes puffy sweaters french thrust bras flailing leather blue jeans stretch pants stretch jeans honeydew bottoms eclair shanks elf boots ballerinas Knight slippers, hundreds of them, these flaming little buds, bobbing and screaming, rocketing around inside the Academy of Music Theater underneath that vast old mouldering cherub dome up there - aren't they super marvelous!
Tom Wolfe in "Girl of the Year" from The Kandy-Kolored Tangerine-flake Streamline Baby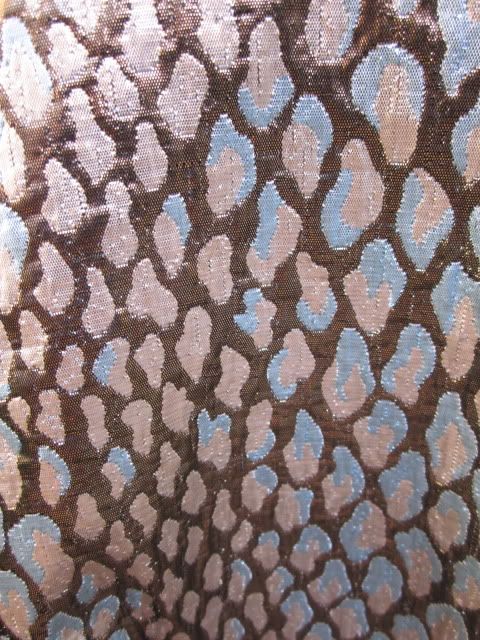 I'm Sammy the Snake, and I have to confess that I look and I sound like the letter S. Ssssssssss.
This is another Saturday-night-outfit reproduction, except that unlike last time I haven't made even the most cursory effort at reproducing my makeup and hair. That's because I had so much black panda eye makeup on (with big wonky flicks of catseye eyeliner too) that two days later I'm still wearing more than a trace of it, and it took about half a bottle of conditioner to get the matted and felted backcombing out of my hair this morning. I would have been a disaster in the decal eye/beehive era, with my hair perenially half-flattened, my raccoon eye makeup smeared halfway down my cheeks, and my false eyelashes tangled inextricably in my fringe.
My arms, they just want to be freeeeeeee.
I don't usually enter what I think of as the retro zone - a place populated with luridly coloured (but not in a good way) polyester maxi dresses, purple crimplene flared pants, frumpy sixties bridesmaid dresses in lumpy gold brocade, drop-waisted eighties formal dresses with enormous puffy sleeves, and a multitude of other unpleasantnesses. There are lots of people in Melvin who are very committed to retro style of various kinds but, like wife-swapping, scrapbooking, or ferret-breeding it's not a hobby that has ever appealed to me. I am too lazy, for a start! I certainly wore my share of nasty faux Pucci poly playsuits and whatnot back when Lady Miss Keir was a sold gold style icon, but that was decades ago now, so this lurex top was definitely a bit of a departure.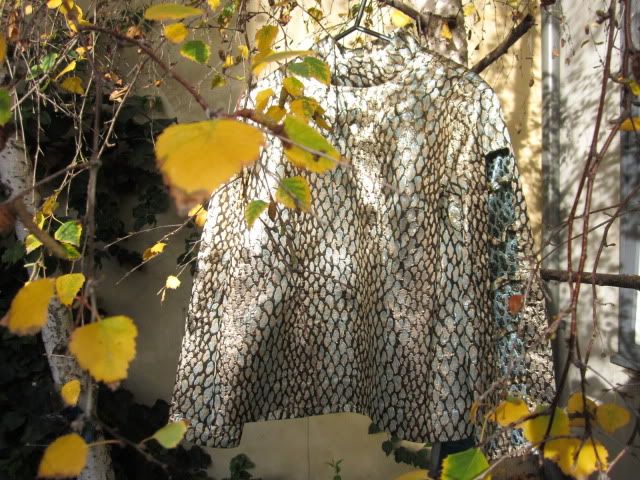 Camouflage.
My friend had a birthday party and the dress code was "Snazzy", and I knew she was contemplating sequins herself, so snaky and super shiny seemed suitably snazz-ified for a saturday night. I'm still staying away from those polyester frocks that smell like death and B.O. though!
xx
Skye
PS. Glitter Lizard & the Retro Dimension, I reckon would be a really dodgy covers band who'd do loads of KC & the Sunshine Band and "Oh What a Night", and there'd be at least one "kooky" guy in the band (bass? drums?) who be wearing a crappy afro wig and those plastic TCB sunglasses you get from the $2 shop. The band playing Baby Jane Holzer's party in Girl of the Year is called Goldie & the Gingerbreads, and they wear gold lame tights - and if I read too much of that stuff I'll start wanting to back comb my hair and wear panda eyes every day, and before you know it I'll be trapped in the retro zone and never able to make my way back to 2011...